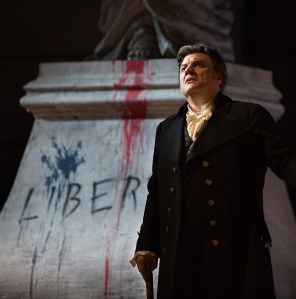 With the Met admitting to disappointing ticket sales and girding up for what threatens to be a particularly brutal round of union negotiations this summer, it would be a pleasure to report that the company is doing a great job at presenting standard opera repertoire.
The sad fact, though, is that the Met is not doing a great job or, in most cases, even a competent job at this core task, as the recent lackluster revivals of Andrea Chénier and La Bohème demonstrated.
The March 24 performance of Chénier was perhaps the greater disappointment, because it's one of those guilty pleasure operas it's fun to wallow in from time to time. The 1896 work by Umberto Giordano is a very free treatment of the last days of the poet André Chénier, who was executed during the French Revolution. It's a mishmash of sex, violence, history and big tunes in a manner the composer's contemporary, Giacomo Puccini, later perfected in his Tosca.
But where Tosca is excitingly relentless, hurtling from plot point to aria with scarcely time for the audience to catch its breath, Andrea Chénier dawdles. The wispy story begins not long before the Revolution, when the poet crashes an aristocratic party. Invited to recite, he launches into a lefty rant about love, making a deep impression on the young noblewoman Maddalena. Years later, as Chénier becomes disillusioned with the violence of the Terror, he encounters Maddalena again, just before he is arrested for treason.  After he is tried and found guilty, she contrives to join him among the condemned fated for the guillotine, and they die together joyously.
Most of the score consists of rather obvious "mood music," merry or apprehensive or anguished, like cues from at 1930s movie soundtrack. But there are also no fewer than four vocally grateful arias for the tenor, flashy solos for the soprano and baritone, and a thundering duet for the doomed lovers in the final scene, climaxing on a unison high B-natural that is practically guaranteed to bring the house down.
And yet, even with such spectacular material to work with, the Met's singers failed to light much of a fire, winning only perfunctory applause.  Marcelo Álvarez, in the title role, boasts a handsome, well-schooled tenor, but he sounded underpowered in all but the highest notes of his arias.
It's simply the wrong voice. Giordano, like a number of his contemporaries, wrote melodies that tended to center on a region of the tenor range called the passaggio, right around the F at the top of the treble staff.  In a dramatic tenor voice—for example that of Mario del Monaco, a famous Chénier of the 1950s—this area is the loudest and most ringing part of the whole voice, so these climactic phrases carry a huge impact.
But this region of Mr. Álvarez's voice is not particularly powerful. It's in tune and audible, but it doesn't pin you back in your seat. In the right voice, Chénier's arias "Un dì all'azzuro spazio" and "Come un bel dì di Maggio" sound like primal screams of passion. When Mr. Álvarez performed them, they sounded polite, even a little timid. This was not the sort of man you'd go to the guillotine for.
At least his voice was in good working order, unlike that of his Maddalena, Patricia Racette. The vocal demands of this part are a little more conventional than the tenors: Her music lies on the low side of the soprano range, moving slowly, in majestically surging phrases. This is the sort of writing that flatters a truly glamorous voice, like that of Zinka Milanov, the Met spinto soprano who specialized in this part in the 1950s and 1960s.
However you might define "glamour," Ms. Racette's voice hasn't got it. The tone was shallow and glassy in the middle register, with an intrusive gurgling vibrato. As the music ascended, her pitch tended to go flat, and the topmost notes, especially the high B at the end of her aria, sounded driven and screamy. The soprano, who has proven herself a fine actor in other roles, here resorted to a single affect of self-pity, her attractive face an unvaried and uninteresting mask of suffering.
Granted, there are not many real acting opportunities in this part; the only character in the piece that approaches complexity is Gérard, a former servant in Maddalena's home who becomes a revolutionary leader. His conflict—admiring Chénier but lusting after Maddalena—sets up the opera's one truly great moment, the aria "Nemico della patria." While Zeljko Lucic was not quite ideal in the part—his baritone lost quality at the very top—he was the only singer in the opera to perform with real vocal passion, propelling the aria's climbing phrases with a thrilling forward momentum.
On the same page as Mr. Lucic was conductor Gianandrea Noseda, who found a brittle, nervous quality in the party music in the first act and an almost Wagnerian profundity in the cavernous chords that open the last. His decisive way with this score made it sound almost like first-rate music; I'd love to hear him take on Adriana Lecouvreur or La Wally.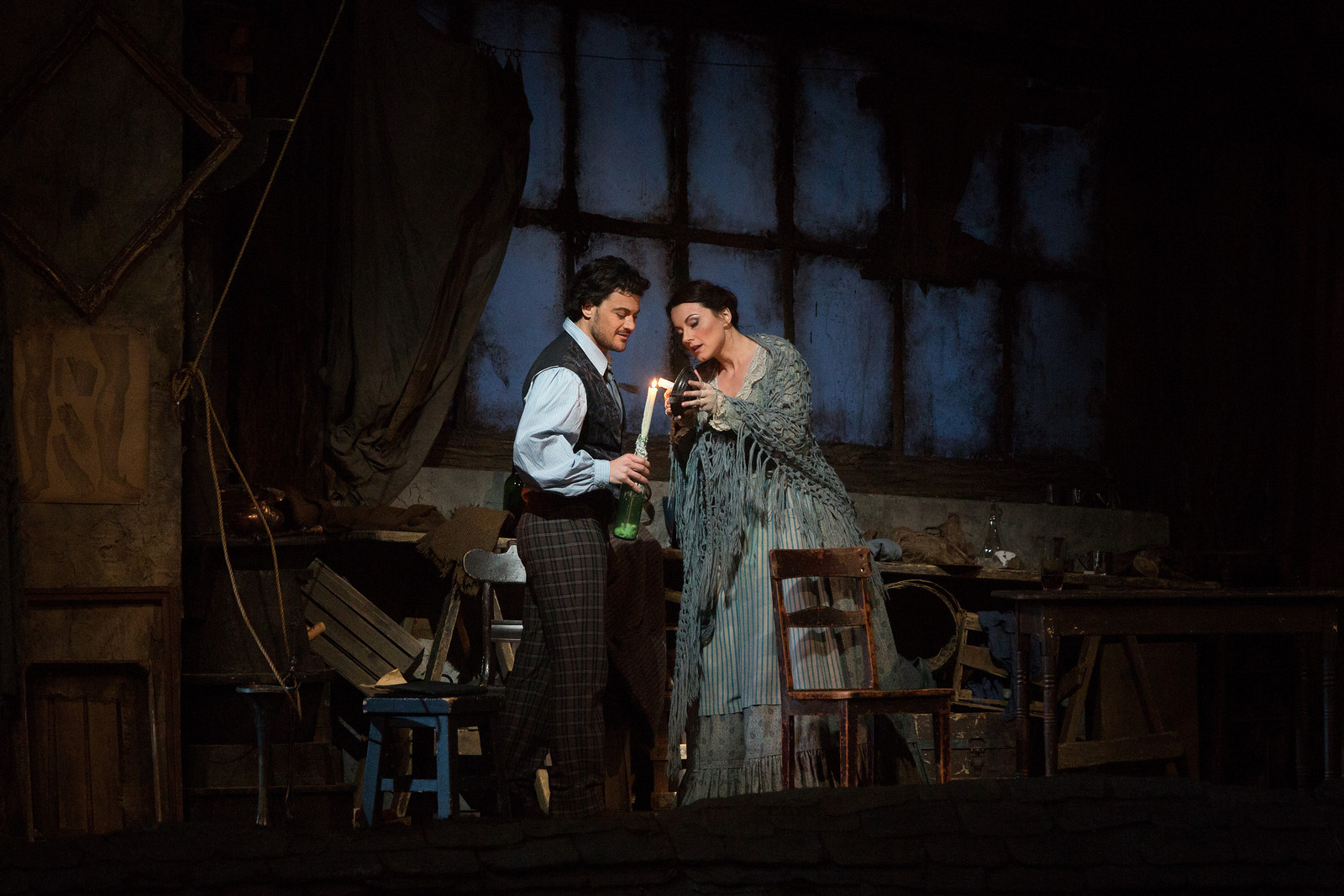 If La Bohème on March 22 came off better in contrast, that's likely because this Puccini score is so perfect as to be indestructible.  Three major cast changes since earlier in the season were mostly improvements.
Most promising was an artist new to the Met, Anita Hartig as Mimi. The Romanian soprano shares with her compatriots Virginia Zeani and Angela Gheorghiu a distinctive "haunting" timbre, an intensely vulnerable yet intriguing sound. She is also a singer with immaculate taste, shaping the phrases delicately and demurely.  As a bonus, she's a ringer for actress Michelle Dockery of Downton Abbey, with a heart-shaped face and dark eyes whose every glance registers in the vast Met. She's not a gaudy performer but the sort of an artist who, over time, an audience can take to its heart.
Also new this season is another soprano, Jennifer Rowley, who has previously made strong impressions in offbeat repertoire locally with New York City Opera and Bel Canto at Caramoor. Her healthy, rollicking voice was a neat fit for the role of the madcap playgirl Musetta, and she brought a welcome extra layer of gravitas to the final act. Usually, we have to take the character's heart of gold on faith, but Ms. Rowley took the trouble to enact it.
Stepping into the part of Rodolfo was tenor Vittorio Grigolo, a puzzling and sometimes frustrating artist. He has so much going for him: a superbly placed lyric tenor with an effortless top, great acting instincts and a soap opera hunk's good looks. But his performance was marred by either crippling stage fright or execrable musicality: I can't decide which. He rushed the rhythm to the point of self-parody and peppered practically every phrase with little yelps and shouts. For example, early in the first act, one of the bohemians arrived in the garret with groceries, and Grigolo screamed his line "Legna!" (Firewood!) with the bloodcurdling vehemence a tenor usually reserves for the discovery that his mother has just been burned alive.
The Franco Zeffirelli production (which premiered in 1981 and is therefore older than Ms. Hartig) continues to be eye candy, though this time around nobody seems to have coached the performers on such fine points as pretending to feel cold when they're sitting in a pile of snow.  And that kind of lazy approach to detail is not likely to ratchet up ticket sales.