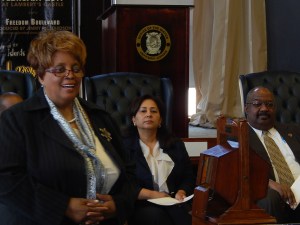 Jarred by ongoing crime, New Jersey's capital city can at least take solace in the guilty verdict delivered to corrupt Mayor Tony Mack.
But more than that, the city's residents can take some measure of hope from the current field of mayoral candidates.
At a debate on Tuesday night, five of the six contenders running to succeed Mack appeared at Lighthouse Outreach Ministries for the first official forum of the campaign season.
Jim Golden, a former police director in the city; Eric Jackson, former public works director; and Oliver Leggett, former housing authority director, all found their moments to shine in the debate and provide ample evidence of intellectual and professional heft, which God knows, Trenton needs right now in City Hall.
Here's to hoping…
WINNERS
Tom MacArthur
The millionaire insurance business owner won the Republican line in Ocean County, adding to the support he already had in Burlington County on his way to securing the nomination for the House seat currently occupied by retiring U.S. Rep. Jon Runyan (R-3). MacArthur's victory signified peace – and same-page political strategizing – between GOP chairs Bill Layton of Burlington and George Gilmore of Ocean.
Aslon Goow
The former Ward 2 Councilman from Paterson drew line 1A this week in the drawing for ballot position in the May 13th nonpartisan mayor's election. To produce the result, Municipal Clerk Jane Williams-Warren spun the ballot box (pictured above), an original product of Paterson's former vo-tech school.
Paul Moriarty
Tapped by Speaker Vincent Prieto (D-32), the 4th District assemblyman, a former investigative journalist with KYW-CBS 3 in Philadelphia, landed a seat on the Select Committee on Investigations as the replacement for Assemblywoman Bonnie Watson Coleman (D-15). "Assemblyman Moriarty's background, experience, temperament and desire for good and honest government makes him a great fit for this committee," said Prieto. "The committee's important work will benefit greatly from his presence."
Brian Goldberg
The U.S. Senate candidate scored two lines this week – in Cumberland and Ocean counties – as part of his effort to elbow out four other Republican competitors and land the Republican nomination to run against U.S. Sen. Cory Booker (D-NJ).
Bernadette Walsh and Robert Avery
The Bergen County Republican Organization tapped the Ridgewood Councilwoman and Ridgefield attorney respectively to run for two freeholder seats this year on the organization line.
Nick Sacco
New grandfather North Bergen Mayor/State Senator Sacco last night drew hundreds to the Venetian a charity event for the Nicholas J. Sacco Foundation, a non-profit group he started a few years back. The Foundation provides services to residents in North Bergen and surrounding areas like free income tax preparation for seniors and people with disabilities, donations for victims of tragedies like fires and lots more.
Shavar Jeffries
The Newark mayoral candidate scored the line A position on the ballot for the May 13th election and received the endorsements of U.S. Rep. Donald Payne, Jr. (D-10), state Sen. M. Teresa Ruiz (D-29) and Assemblywoman Eliana Pintor Marin (D-29).
Maritza Davila
The at-large candidate for Paterson City Council – the only woman in a field of eight – drew line 1B at Thursday morning's ballot position drawing.
LOSERS
Steve Lonegan
The former mayor of Bogota received just three votes from the Ocean County Republican Committee at the organization's convention on Wednesday night, coming in a distant third behind Tom MacArthur and Mo Hill of Toms River.
Mo Hill
Part of the crowd at Wednesday's convention had a deep and abiding sense of loyalty to the retired Navy rear admiral, a competitor in the CD3 floor fight at the Ocean County Republican convention. But Hill came short behind MacArthur, who gave the organization $25,000 last year.
Dave Samson
100 people packing Wednesday's meeting o f the Port Authority of New York and New Jersey forced the embattled chairman – under investigation for his role in Bridgegate, according to published reports – into retreat.
Chris Christie
New Jersey State Police snapping pictures at the governor's town hall this week – exposed in a story by PolitickerNJ reporter Matt Arco – produced another blemish on the Bridgegate-weakened Republican leader.
Angel Colon
A court sentenced the Newark man to three years in prison for submitting fraudulent absentee ballots while working for the 2007 campaign of state Sen. Teresa Ruiz (D-29). Colon pleaded guilty on July 29, 2011 to a charge of second-degree election fraud in a case filed by the Division of Criminal Justice Corruption Bureau. Colon admitted that he fraudulently submitted absentee "messenger" ballots on behalf of voters who never received the ballots or had an opportunity to cast their votes, according to the attorney general's office.
Mike DuHaime
Gov. Chris Christie's likeable chief political strategist was included in discussions about the George Washington Bridge lane closure controversy, according to newly released emails showing proffered questions to DuHaime by then-Christie operative Matt Mowers. DuHaime had previously escaped scrutiny as members of Christie's administration absorbed subpoenas. To be clear, there's no evidence of any wrongdoing on DuHaime's part, but no one wants to get looped into the Bridgegate debacle.
Incumbent Freeholders in Hudson County
Since the election last year of Steve Fulop to the mayor's office and the strengthening of political ties between Fulop and North Bergen's Sacco, Hudson Dems have undergone a housecleaning that resulted in the Hudson County Democratic Organization dumping five out of nine current freeholders from the county organization line. In the words of one party insider, "Nothing lasts forever – even in Hudson County."
Dierdre Paul
The Englewood educator and author came up short on Thursday night behind Walsh and Avery in her bid to land the Republican line for freeholder in Bergen County.