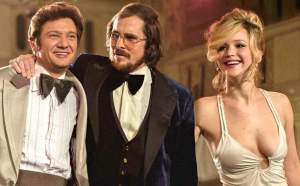 WINNERS
Tom MacArthur
The CD3 candidate won the support of the Ocean County GOP Screening Committee. The former Randolph mayor is now well positioned to receive the support of the GOP establishment for the seat of retiring U.S. Rep. Jon Runyan (R-3). MacArthur also won the expected backing of the Burlington County Screening Committee.
Eric Jackson
Backed by numerous influential African American ministers and labor groups, the Plainfield Public Works Director continues to consolidate support in his front-running bid to succeed the disastrous Tony Mack as Mayor of Trenton.
Rich Pezzullo
The good news is the Union County GOP on Saturday awarded the line to the U.S. Senate candidate who wants to run against U.S. Sen. Cory Booker (D-NJ). The bad news is the establishment is still trying to recruit another candidate. The other good news for Pezzullo is they aren't trying that hard. The bad news is the same lack of interest the GOP shows in recruiting someone for this "contest" will translate into their lack of enthusiasm for a Booker opponent in the general election. But a win is a win and the Union line belongs to Pezzullo.
Hillary Clinton
An Eagleton/Siena/Roanoke 2016 Presidential Poll showed the former U.S. Secretary of State leading Gov. Chris Christie by ten points in Christie's home state of New Jersey.
Cory Booker
A scandal-plagued Newark is in tatters, but it doesn't tarnish the mayor turned U.S. Senator, according to a Monmouth University/Asbury Park Press Poll. Booker enjoys a 47 percent approval rating from New Jersey residents compared to just 20 percent who disapprove. Fifty-five percent of voters say Booker should be re-elected in November, according to the poll.
New Leaders Council – New Jersey
Over 275 people from eight chapters in the Northeast Corridor attended the New Leaders Council Northeast Conversation, a day of progressive planning this past weekend in Jersey City. Panelists and special guests for the day included Jonathan Soros, Simon Rosenberg, US Rep. Hakeem Jeffries, SEIU President Mary Kay Henry, Jersey City Mayor Steven Fulop, NJ Assemblyman Troy Singleton, Senator Joe Vitale, Assemblywoman Mila Jasey and more. The day included more than a dozen panels, speaking programs and breakout sessions covering topics from income inequality, healthcare, and immigration reform to education, affordable housing, and transportation infrastructure.
Ras Baraka
The Newark Mayoral candidate now has too much labor support to keep straight. The only danger is he has much considerable union backing that GOTV soldiers will decide to sit out the contest figuring he has enough street bodies on Election Day.
LOSERS
Rigo Rodriguez
This was hardly the kickoff announcement the Paterson Councilman wanted for his mayoral campaign. Rodriguez and his wife were indicted this week on charges that they engaged in mail-in ballot fraud in the May 2010 Paterson city council election and tampered with witnesses in connection with a subsequent investigation by the State Police and the Division of Criminal Justice.
Steve Lonegan
The former mayor of Bogota lost to MacArthur in his bid to win over the Ocean County Republican Screening Committee.
Beth Mason
The Hoboken councilwoman and former mayoral candidate, and her campaign treasurer husband failed to file in a timely way and filed numerous late reports tied to Mason's 2011 mayoral campaign, according to the Election Law enforcement Commission (ELEC).
Chris Christie
A Washington Post Poll this week showed that the 2016 race for president is "wide open." Christie was the frontrunner pre-Bridgegate. A Rutgers-Eagleton Poll had the governor plummeting by 26 points since November of 2013.
Michael Kazmark
The former Woodland Park Democratic Committee Chairman Michael Kazmark was sentenced to two years behind bars for bribery in Camden County Federal Court.. Kazmark, 61, previously pleaded guilty to charges that he bribed two people he thought were IRS officials in an attempt to eliminate tax debt.
American Hustle
Based on that lovably corrosive culture otherwise known as New Jersey politics, the entire movie struck out at the Oscars, possibly weakened by the real life horrors of Bridgegate.
Arobert C. Tonogbanua
The former Sicklerville attorney in the Haddonfield office of a firm specializing in toxic tort litigation today admitted that he falsified defendants' names in more than 100 asbestos suits filed in New York State courts in order to increase business and his standing in the firm, U.S. Attorney Paul J. Fishman
Teresa and Giuseppe "Joe" Giudice
The husband and wife Reality TV stars from Towaco pleaded guilty before U.S. District Judge Esther Salas in Newark federal court to several counts of financial fraud returned against them in July 2013.