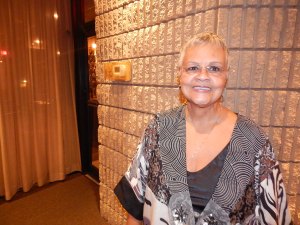 WINNERS
Bonnie Watson Coleman
In her bid to succeed U.S. Rep. Rush Holt (D-12), the assemblywoman won the line in the Union County portion of the 12th Congressional District.
Ras Baraka
Slapped by the Star-Ledger for his writing a letter on behalf of a jailed gang member, the Newark Mayoral candidate scored the support of the local Fraternal Order of Police (FOP).
Steve Lonegan
A PolitickerNJ-commissioned poll shows 41% of GOP Primary voters backing the former mayor of Bogota, compared to 11% for his chief rival, former Randolph Mayor Tom MacArthur.
Jon Bramnick
Trying to sell himself as bipartisan Republican who doesn't carry a bat, the affable Assembly Minority Leader on Monday night hosted another successful gathering of politicos from both sides of the aisle in his home at his annual St. Patrick's Day celebration, O'Bramnick's.
Bill Pascrell
The U.S. Congressman from the 9th district showed North Jersey might on Monday night at his St. Patty's Day celebration. A big chunk of North Jersey political influencers convened on the Brownstone for the congressman's annual bash, proving Pascrell's obvious power boost with his 2012 acquisition of the Bergen portion of the new 9th District.
Alieta Eck
While the U.S. Senate candidates in pursuit of the GOP nomination continue to battle to winning effect, the Somerset doctor seeking the Republican nomination to run for Congress in the 12th District convincingly keeps locking down her party's support at county conventions and screenings.
Bruce Garganio
Burlington County Freeholder Director Leah Arter resigned her post Wednesday evening. Carpenter Garganio, a former freeholder director, will assume the seat in her stead, sources say. Garganio earlier this month bowed out of the running as a possible replacement for retiring U.S. Rep. Jon Runyan (R-3).
Bob Avery and Deirdre Paul
The GOP pair seeking to run as freeholder candidates on the Republican line this year won the nod of last night's screening committee, according to Bergen County Republican Organization Chairman Bob Yudin.
LOSERS
David Sampson
Federal prosecutors are taking a closer look at the Port Authority's chairman and close ally of Gov. Chris Christie, seeking more information about his role in Bridgegate, according to published reports.
Chris Christie
The Governor's job approval took a 20 point drop in three plus months, according to this week's Fairleigh Dickinson University PublicMind Poll. Christie's post Bridgegate job approval rating stands at 41% (with 44% who disapprove), down from 61% last November.
The Republican U.S. Senate Primary Field
Rich Pezzullo won Union, Brian Goldberg won Essex, Murrary Sabrin came out of Middlesex Screening Committee boasting about a victory when the party requires a two thirds majority to get the committee's support, which he didn't receive. Jeff Bell, a 1978 loser to Bill Bradley, is affiliated with Steve Lonegan in CD3, almost guaranteeing him off the reservation status in the GOP power base. It all adds up to a jangled nightmare for Republicans who in better shape could line up a real run against a Newark Watershed-weakened U.S. Sen. Cory Booker (D-NJ).
Kevin O'Toole and Kip Bateman
Senate Minority Leader Tom Kean, Jr. ejected the 40th District and 16th District state senators respectively from their caucus leadership positions as retribution for O'Toole's attempt to replace Kean last year with Bateman's support.
Lee Gottesman
The Toms River attorney was sentenced today to six months in prison and six months of home confinement for evading federal income taxes after hiding assets in an attorney trust account in his wife's name when he was already in debt to the IRS. Gottesman previously pleaded guilty before U.S. District Judge Freda L. Wolfson to an indictment charging him with one count of federal income tax evasion and one count of failing to pay payroll taxes for the employees of his law firm. Judge Wolfson imposed the sentence today in Trenton federal court.
Anthony Ardis and Paul Bazela
The former administrator and former shop foreman respectively at the Passaic Valley Sewerage Commission were convicted of charges that they directed subordinate employees to complete repairs or improvements at private homes while on-duty for the PVSC, according to Acting Attorney General John J. Hoffman.
Bernadette Walsh and Brian Fitzhenry
Pursuing the support of the Bergen County Republican Organization (BCRO) screening committee last night, the Republicans lost to Avery and Paul (see above), according to BCRO Chairman Yudin.
Newark
As if 111 murders last year weren't appalling enough, the city is in dire financial circumstances. "When your administration prepares the 2014 budget you will begin with a $30 million structural imbalance," State Local Government Services Director Thomas Neff wrote in a letter to Mayor Luis Quintana.