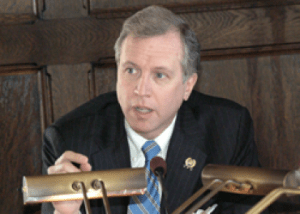 A Democratic lawmaker leading the charge into investigating Gov. Chris Christie's administration over the George Washington Bridge lane closures said Thursday the internal review into the matter "reads more like a novel than a work of fact."
Assemblyman John Wisniewski (D-19) harshly criticized the internal review hours after the firm hired by the Republican governor's administration released its findings.
The report cleared the governor of any wrongdoing and suggested former Port Authority David Wildstein and former top Christie staffer Bridget Kelly were the prime culprits.
"The idea that Bridget Kelly and David Wildstein by themselves concocted the lane closures is frankly, hard to believe," Wisniewski said in a telephone news conference.
The lawmaker, who serves as the co-chairperson of the committee investigating the administration, said seemingly irrelevant details about former Christie staffers' personal lives only support his belief that the review is "not legitimate."
"It seems to me to be a gratuitous reference," said Wisniewski, referring to a brief reference in the report about a personal relationship between Kelly and former two-time Christie campaign manager Bill Stepien.
"I'm not sure how it adds to the facts that we need to be able to determine what happened here," he said. "It seems to be wholly gratuitous to add, perhaps, a salacious element."
What's more, Wisniewski argued, is that the conclusion is likely based off information from other people – not the subjects themselves – since both Stepien and Kelly refused to take part in the internal review.
"Right now it seems to border a little on hearsay," he said.
The internal review makes a reference to the relationship between the two.
"[By August 2013] Kelly had become deputy chief of staff, assuming the post left vacant by her predecessor, Stepien, who departed in April 2013 to run the governor's re-election campaign. Because Stepien was her 'benefactor,' Kelly relied heavily on him during this transition," the report reads.
"And at some point after Stepien's departure to run the campaign, Kelly and Stepien became personally involved, although, by early August 2013, their personal relationship had cooled, apparently at Stepien's choice, and they largely stopped speaking," it continued.