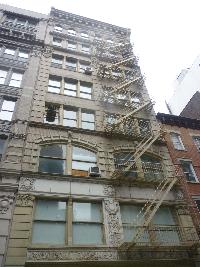 On one of many recent frigid days, Prime Manhattan broker Robert Dankner had more than wet feet and windburn to complain about. Having scheduled a viewing for a full-floor unit listed for $12.5 million at the tony One Madison, Mr. Dankner became victim to last-minute cancellation when a client begged off—citing inclement conditions and confirming the broker's hunch that his "buyer" was less than serious. Fortunately, Mike Pardee, executive producer at The Mission—a California-based visual effects studio—waited in the wings. Though Mr. Pardee planned to see a more humble unit at 7 East 17th Street, asking $3.5 million and in need of serious work, he arrived that day equipped, Mr. Dankner told us, with both enthusiasm and imagination, entering contract the very next day on the live-work space.

Mr. Dankner called the deal—which came in a bit shy of ask but close enough to make everyone happy—a perfect storm. "Everyone is smiling," he said. (That includes Mr. Dankner, whom we reached by phone in Colorado, where, he said, "The snow is cleaner.")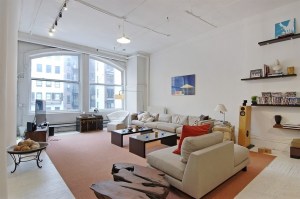 Mr. Pardee, whose company will be expanding East Coast operations, intends to use the 2,678 square-foot space as a home base when he's in New York, and as a studio with a full-time staff and multiple editing suites. (The Mission specializes in high-end effects and post-production commercial work for the likes of Samsung, Nike, Chevy and Squarespace.) Dominated by full-floor, owner-occupied units, the 1903 cast-iron building lends itself to the company's work, which demands both intense focus and limited background noise. "It's a very quiet building," Mr. Dankner said. "That was one of the things that attracted them." The third-floor loft also features a keyed elevator, ceilings nearly 13 feet high and enormous arched windows.
"The original architecture is very well preserved," Mr. Dankner said. But other, less-desirable traits have been saved for posterity, too: "It's a lot on the dated side." Indeed, one very nearly expects men in leisure suits to waltz  through the listing photos. "It needs a complete overhaul. [The buyer] was very savvy to recognize the potential of the space." (The seller's brokers—Corcoran's Dalia Newman and Sharone Shatz—were savvy, too, Mr. Dankner said, showing the good sense to drop the ask nearly a half-million dollars in May, after just fifteen days on the market.)
"In the live-work loft world," the broker told us, referring to non-ARI units, "I can probably count only one or two options—that are good options. This is a tremendous value. Their use, relative to what the building was looking for, is perfect." The Flatiron location? Perfect, too, Mr. Pardee told the Observer. "We looked at about maybe five or six different spaces, and this one felt like it was just right for us." The renovation, he acknowledged, will be huge. "But we hope to be up and running within 12 months."