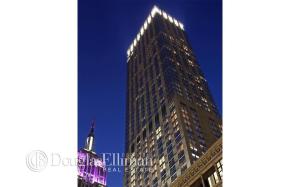 Alex Meruelo holds the dubious distinction of having a Wikipedia entry that identifies his most fame-worthy claim as a "failed bid to become the majority owner of the Atlanta Hawks." No one wants to be remembered for failed bids, of course. But the very fact that he was in the running to own an NBA team puts Mr. Meruelo, the son of Cuban immigrants who grew up to found the La Pizza Loca Southern California pizza chain and amass substantial holdings in residential and commercial real estate, in fairly illustrious company. Nervousness from the league about Mr. Meruelo's financial capacity to support the team ultimately torpedoed the deal, but if city records are any indication, he's still doing just fine. Mr. Meruelo has acquired a penthouse apartment at 400 Fifth Avenue for $10.79 million.
Douglas Elliman's Toni Haber, who held the listing, told us last month that buyers who'd closed on another penthouse in the building for $3,664 per square-foot had gotten themselves a deal, but the pizza meister managed his new place for just $3,277 per square foot—10 percent less than the $12 million ask. Perhaps his bargaining skills have improved since the great Hawks debacle of 2011? In any event, he's come away with an enviable trophy.
The three-bedroom condo is full of light and equipped with black oak flooring, diamond-angled windows and top-flight kitchenware. There are stone, marble and fixtures with elegant, foreign spellings and a large outdoor terrace. Skyline views are, of course, "mesmerizing," and bathrooms "beautifully appointed." Things, generally speaking, are very shiny in these parts.
"Emotion is a tremendous part of this deal," Mr. Meruelo told CNN when he appeared poised to take the helm in Atlanta. "And I am trying to contain myself as much a possible because to explain it, how I feel or what I believe, is very hard to put into words right now." Alas, it was not to be. But Fifth Avenue compares rather well with pretty much any street in Atlanta. Plus, now he's got the Knicks, whose stadium comes complete with its very own meditation room, in the event that he finds himself overwhelmed by emotion during a game.