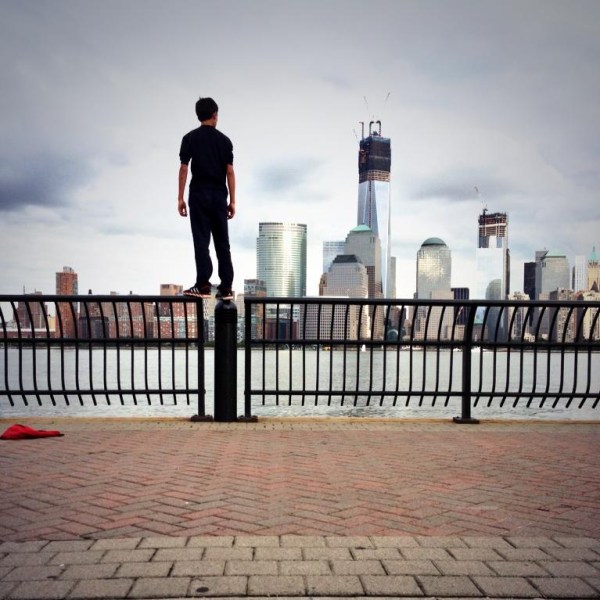 On the night of August 6, 1974, French high-wire artist Phillippe Petit snuck into the south tower of the uncompleted World Trade Center with some friends, wire and a bow and arrow. About 10 hours later, Mr. Petit was suspended in the sky, balanced precariously but expertly on a wire strung between the twin towers, hanging a quarter-mile above the ground.
Bizarre as it may seem, Mr. Petit's illicit act of performance art cemented the previously unpopular twin towers' status as a New York landmark. "The image of him crossing them became the lasting icon of the World Trade Center," one New Yorker told the New York Times. The trespassing charges brought against him were eventually dropped.
This Sunday morning, a 16-year-old New Jerseyan managed to sneak into the WTC site through a foot-wide hole in the security fence, get past a sleeping security guard and an oblivious elevator operator and walk onto the roof of One World Trade Center. But while Justin Casquejo's trek to the top of the tower may seem similar to Mr. Petit's, it takes place in a very different New York. Now, breaking into the WTC site does more than garner commentary from art critics; it raises serious concerns about what is supposed to be one of the world's most secure buildings.
"We take security and these type of infractions extremely seriously and will prosecute violators," Joseph Dunne, the Port Authority's chief security officer, said Thursday in a statement responding to the incident. "We continue to reassess our security posture at the site and are constantly working to make this site as secure as possible." They began by firing the sleeping security guard and reassigning the elevator operator. Mayor Bill de Blasio wasn't too happy either.
When the WTC's $40 million security system is completed in 2015, it will have barriers, guard booths and vehicle checkpoints. For now, though, there are apparently holes in the security fence big enough for a human being to fit through.
"I found a way up through the scaffolding, climbed onto the 6th floor, and took the elevator up to the 88th floor. Then I took the staircase up to [the] 104th fl. I went to the rooftop and climbed the ladder all the way to the antenna," Mr. Casquejo reportedly told police, who caught him after he spent two hours on the roof.
Thankfully, Mr. Casquejo, who was charged with trespassing and is due in court April 2, seems to have had intentions as benign as Mr. Petit's–he was armed with only a cell phone and a camera, which were confiscated by the cops. Judging by his Twitter, he's equally enamored with illegally climbing tall objects, including a construction crane and a bulldozer.
https://twitter.com/JustinCasquejo/status/439989497984737280
Mr. Casquejo, who also appears to be a fan of parkour, is essentially a performance artist. And even in the post-9/11 era, Mr. Casquejo's latest piece has garnered him a few fans.
Whenever Mr. Petit is asked why he pulled off the stunt, he gets confused. "That's such an American question," he said in the 2008 movie Man on Wire. It's art for the sake of itself, he insists. It's beautiful.
Still, we can't help but get uneasy knowing that a high school kid was able to break into the country's tallest building so easily. If Mr. Casquejo's stunt was art, than hopefully it will be beautiful in its ability to affect change. Namely, better security at the World Trade Center site.