This week's report starts in Times Square. Most people cheer the "new" Times Square with its lack of sex dens and addition of Elmo and entire corporate buildings that are video ads for said corporation (the Barclays building is the most obnoxious building in New York City).
I prefer the Times Square of 20 years ago, which was actually calming to walk through. Sure, you saw the occasional area man masturbating, but that sight was nothing compared to the advertising masturbation going on there now.
Here, between 48th and 49th on Seventh Avenue, you have an "interactive" Snickers ad interacting with the apartment windows next to it. That's a nice idea. However, the execution leaves one wanting better copy.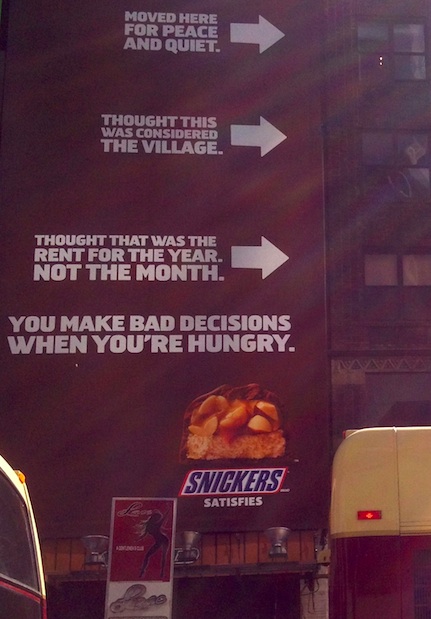 The monthly rent line above the tagline is the best. But the other two are just too inane for New Yorkers to even snicker at. The first decision would have nothing to do with hunger and everything to do with deafness. And the middle one is so implausible it doesn't even warrant a comment.
The fact that the billboard is directly above the Lace Gentlemen's Club is brilliantly interactive, though that's a different kind of hunger.
Next, just down Seventh Avenue, we have this honking board via Illinois company Protect-A-Bed. It is the sexiest of the Times Square bed bug ads so far. (Here's the company's previous board.) It benefits greatly from the perceived interaction with the adjacent ad for the National Geographic Channel's Wicked Tuna. Pure dumb luck.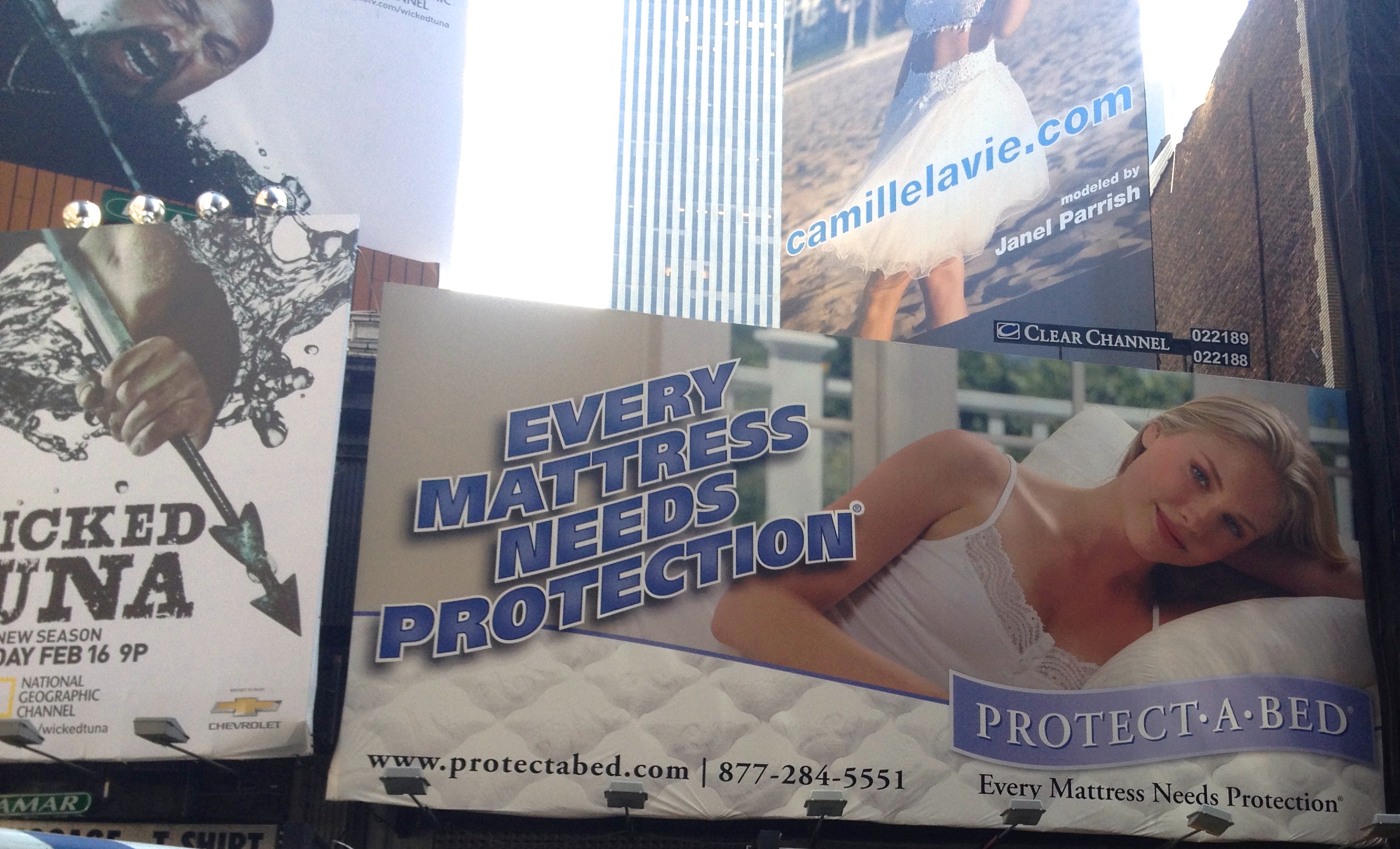 I don't want to get into the politics of the fucked up healthcare situation in this state, but today's the day I will talk about the new ads for the state's healthcare exchange. "Today's the day that a broken arm doesn't have to break the bank." Well, that's good. I will then now go underground and punch this stock photo man with the fake broken arm in the face. As you can see, a New Yorker has already added his two cents.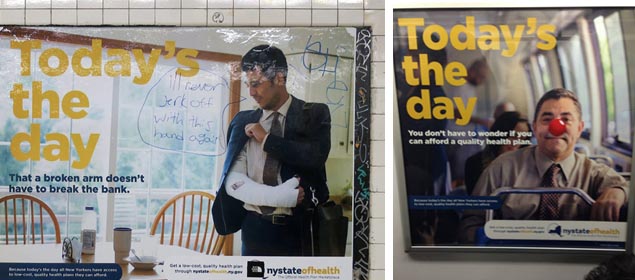 Right: there's a new ad buster around town who's placing clown nose stickers on subway ads—"Clownify Stickers", is what he calls his website. (I know it's a man because he emailed me.) "Today's the day a really bad cold doesn't have to freeze your bank account." Or something.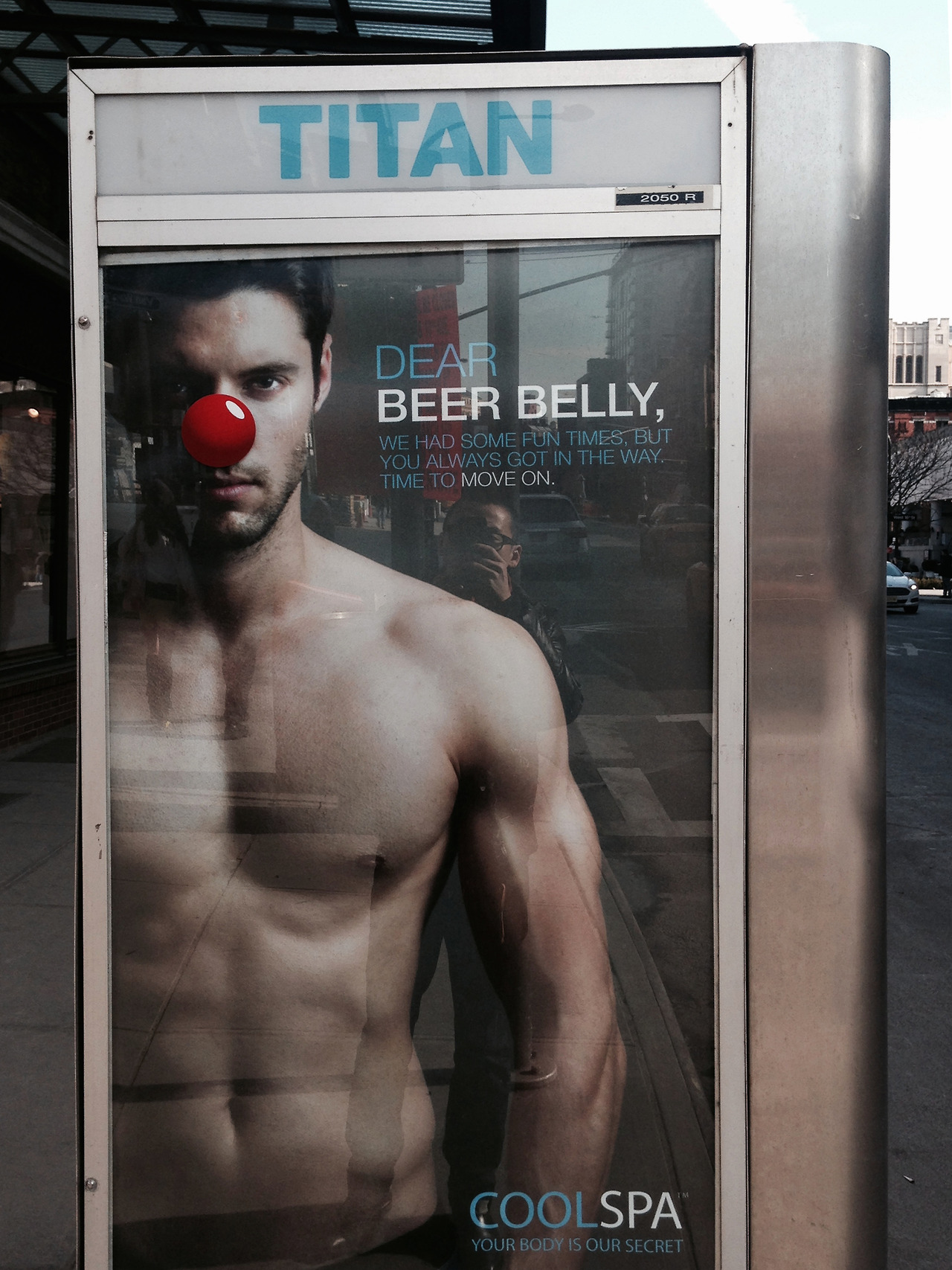 Staying with the Clownifier, here he beautifully busts a particularly bad gym ad. New York City has seen some terrible gym ads over the years—of note, the horribly depressing Equinox ads from about seven years ago.
Any man who writes a Dear John letter to his beer belly deserves at least a permanent clown nose. And "Your Body Is Our Secret" is a creepy-ass tagline.
NOTE: If you spot a particularly egregious outdoor or underground ad, please send it to copyranter at Gmail. Thank you.