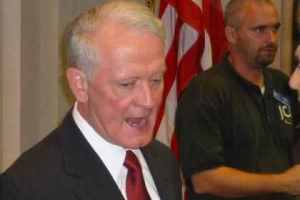 The Independence Hall Tea Party PAC announced today that its Board of Delegates voted unanimously to endorse challenger Dave Larsen over incumbent U.S. Rep. Lenard Lance in New Jersey's 7th Congressional District Republican Primary.
The endorsement came a day after movement conservative strategist Rick Shaftan savaged the group for never endorsing a candidate backed by other Tea Party candidates.
Larsen is a perennial challenger going at Lance from the Congressman's right.
"The Independence Hall Tea Party, with thousands of adherents in the Garden State, is supporting Dave Larsen because he is a committed lifetime conservative and successful entrepreneur who can be trusted to vote rationally on environmental and other issues that impact our nation's economy," said Greenbrook, NJ resident and PAC Board Member, Bill Miller, a constituent of the 7th District.
"As a businessman, Dave Larsen understands how important the private sector is to the overall health of our nation's economy and how over-regulation is destroying the American entrepreneurial spirit. Congressman Lance, on the other hand, has been a career politician who has never met a payroll," Miller added. "While we note that Congressman Lance's voting record has moved to the right in recent years, we wonder if it's not due solely to the fact that Dave Larsen has been standing in his shadow.
"We are particularly concerned about Congressman Lance's environmental extremism–evident throughout his legislative history in both the state legislature and the US House."
In this current Congress, Lance was one of only six Republicans to vote in favor of greenhouse gas emissions restrictions, the Tea Party group complained.
The endorsement was another slap at Shaftan's charge, former Bogota Mayor Steve Lonegan, who's running in the 3rd Congressional District.
Lonegan and Lance forged a strong alliance last year during Lonegan's failed U.S. Senate bid.