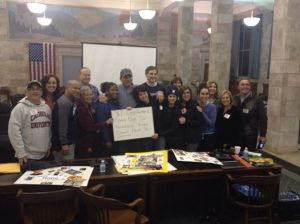 Camped under the stars outside the Statehouse last night, New Jersey lawmakers raised over $25,000 for homeless youth in Covenant House's first ever legislative sleep-out.
"It was a worthwhile night; a notable and meaningful event," said Assemblyman Jay Webber (R-26), co-chair with state Sen. Joe Vitale (D-19). "There was a lot of learning and sharing going on, and for those of us participating on the legislative side, we came away with an appreciation for these kids."
Founded in New York City in 1972, Covenant House is the largest privately funded charity in the Americas providing services to homeless, abandoned, abused, trafficked, and exploited youth. The state's largest service-provider to homeless and at risk adolescents under 22, Covenant House New Jersey provides healthcare, educational and vocational services, counseling, drug abuse treatment and prevention programs and transitional living programs.
Early Friday evening, the bipartisan gathering of 16 legislators broke into groups inside the Statehouse to hear the testimonials of young people between the ages of 18-22.
"These are kids who live in Newark or Atlantic City who were homeless and found their way to Covenant House," said Vitale. "These kids are very resilient. We heard a lot of tragic stories. Many of these kids were raised by someone other than biological parents and left because the abuse was so great. At Covenant House their future was restored, and now they are excited to be able to dream again."
The following lawmakers participated: Assemblywoman Caroline Casagrande (R-11), state Sen. Jennifer Beck (R-11), Assemblywoman Maria Rodriguez-Gregg (R-8), Assemblywoman Bonnie Watson-Coleman (D-15), Assemblyman Reed Gusciora (D-15, Assemblywoman Celeste Riley (D-3), Assemblywoman Grace Spencer (D-29), Assemblywoman Donna Simon (R-16), state Senator Pete Barnes (D-18), state Sen. Nellie Pou (D-35), state Sen. M. Teresa Ruiz (D-29), Assemblyman Benjie Wimberly (D-35), Assemblyman Tim Eustace (D-38), and Assemblywoman Valerie Vainieri Huttle (D-37).
The group of legislators and youth took their sleeping bags, pillows and ponchos and trooped outside around 11 p.m. Friday night, to the grass in front of the Statehouse Annex facing West State Street.
After a conversation and song, some impromptu Evita and Carole King, most people nodded off around 1 to 2 a.m. in a night without rain.
"It was uncomfortable," Webber said of sleeping on the ground. "But we were so much more comfortable than the homeless youth we were trying to help. We had access to restroom, we were with our colleagues, we had a patch of grass, and we were safe. A lot of these kids don't have that. The experience doesn't compare to what they go through, but it was a good reminder to us of their challenges out there. We were fortunate to raise awareness and keep them in our consciousness."
This was Webber's first over-night with Covenant House.
Vitale has participated in sleep-outs three consecutive times in New York City prior to Friday night.
Both lawmakers were proud to have helmed the first legislative sleep-out in the country and look forward to more in the future.
"Some of the kids said we were crazy to be out there," Vitale said. "A bunch of old folks on the ground – but they appreciated the time we spent with them, and we appreciated them and the chance to raise awareness about what it's like to be a homeless kid."
The group woke around 6 this morning and headed in their separate directions.
"The experience was eye-opening and alarming when one considers the resources that are not readily available to these young people," said Spencer. "Covenant House is saving the lives of youth who would otherwise be lost."
"Covenant House is always there, when no one else is, to help homeless, at risk adolescents," said Casagrande. "I was moved to get involved by the stories of those whose lives have been changed by this remarkable organization. It is my hope that my participation in this 'Legislative Sleep Out' will bring attention to the work of Covenant House and encourage others to get involved."