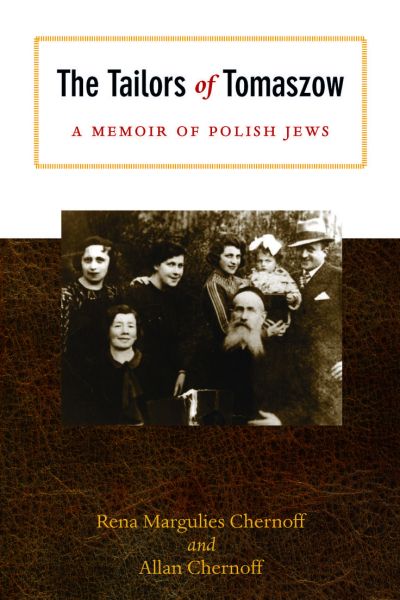 The Tailors of Tomaszow: A Memoir of Polish Jews
Rena Margulies Chernoff and Allan Chernoff
(Texas Tech University Press, 208 pp., $24.95)
The Tailors of Tomaszow is a slender book, and as sharp as the prick of a needle. Recent studies of the Shoah reveal that many killings occurred outside the infamous camps; death came in small towns by bullets and beatings, and populations were decimated one by one.
Tomaszow is such a town, where Rena Margulies Chernoff grew up as the beloved child of one of the many tailors in the area. This quiet memoir gives exquisite details of life in a small Polish town—how quickly the borders of their quiet world ripped open to contain the horror of the war, including soldiers who took particular pleasure in shooting children in the head.
Ms. Chernoff remembers how her 9-year-old brother, Romek, already emaciated from the effects of measles, knew that he would soon be selected for extermination. When the starving boy was handed his daily piece of bread, he threw it over the fence to his mother, who was caged in a different part of the camp. His fate was already sealed. He was murdered on the first day of Rosh Hashana, 1944.
The author was a child when the Nazis entered Poland and she survived an occupation of her town, a slave labor camp, and finished the war at Auschwitz. Her tiny face appears in many of the photos the Russians took after the camp was liberated in 1945. Ms. Chernoff was one of the youngest survivors of the Shoah, and is one of only 250 survivors of her town. This valuable book—written with her son Allan Chernoff, a former senior correspondent for CNN now enmeshed in the PR vortex—serves as the last testament of a murdered town. More than that, it's likely to be one of the very last first-hand accounts of the Holocaust by a living author.