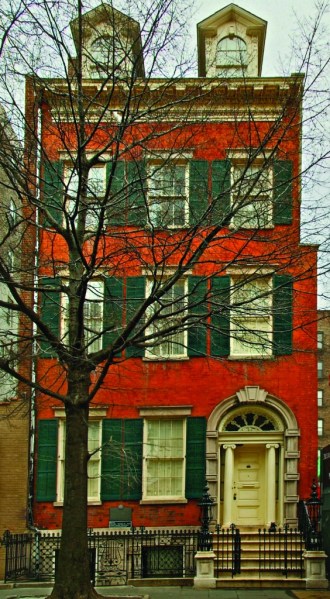 Earlier today, the Landmarks Preservation Commission approved the construction a nine-story hotel next to the 182-year-old Merchant's House—a beloved East Village museum and the only family home in the city to be landmarked both inside and out—ending one chapter of the two-year fight that preservationists waged to stop the development.
Now, the museum will begin second phase of the battle, director Margaret Gardiner told the Observer this afternoon—beginning the painstaking process of ensuring that the neighboring construction does not damage the historic home.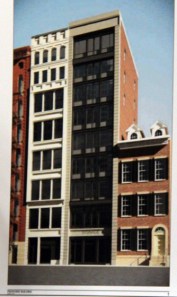 "Obviously, we're very disappointed," Ms. Gardiner said. "But now we have to move forward with protecting the home during construction."
The Merchant's House first rallied local preservationists to its cause when the hotel's architect and developer Edward Carroll and Constantine Fotos filed plans with the city to build a hotel at 27 East 4th Street in 2012, which were summarily rejected by Landmarks for being uninspired and non-contextual. Another plan was also rejected before today's approval. Though their approval of the structure was not exactly enthusiastic. "Yeah, the building is boring, but it's appropriate,"Curbedreported commissioner Michael Goldblum as saying before giving his nod. Though commissioner Margery Perlmutter apparently decided that a building which was "drab on so many levels"  would not get her approval. "I feel like we've been exhausted into saying yes to this proposal, so I'm saying no," she said, according to Curbed.
Still, while earlier arguments against the hotel devoted considerable attention to how the structure would dwarf and detract from historic structure, preservationists later shifted their focus to the potential damage the construction could cause to the historic home's foundation and ornate interior plasterwork.
Which is not simply an idle worry—the museum was closed for two years in the late 1980s after a construction project on its other side caused $1 million worth of damage to the building, according to Ms. Gardiner.And, she added, not all damage is repairable. "We are an interior landmark with ornate plasterwork and if that's damaged, we're done. That can't be replaced," she said.Hence, the museum is in conversation with a number of engineers whose expertise—in building settlement, vibration, water infiltration and interiors—will be needed to safeguard the home in the coming months and years, during which time it may need to be closed to the public."There's a chance that to protect the interior plasterwork, we may need to move all the furniture out and build interior scaffolding to cushion the walls, now that landmarks has allowed the project to move forward," Ms. Gardiner said.