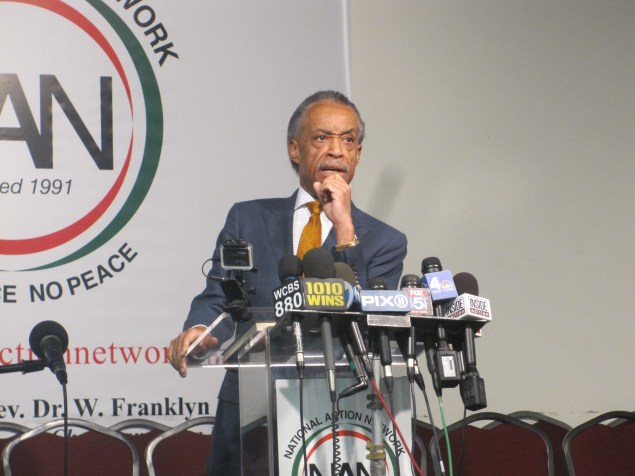 A defiant Rev. Al Sharpton today responded to media reports that he served as an FBI informant against mob bosses in the 1980s, confirming that he recorded conversations, but insisting the reports missed the mark.
Speaking at a hastily-called press conference at the National Action Network's headquarters in Harlem, Mr. Sharpton took special issue with the "informant" characterization. The front pages of the New York Post and Daily News today labeled the reverend a "rat" and a "mob snitch."
"Rats are usually people that were with other rats. I was not and am not a rat, because I wasn't with the rats. I'm a cat," said Mr. Sharpton. "I chase rats."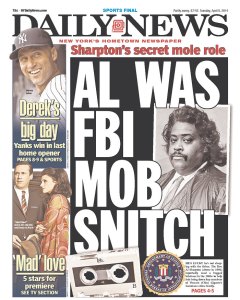 Instead, Mr. Sharpton argued that cooperating with the police to help cut crime should be considered a good thing.
"I think it was very interesting that many of us are condemned for not fighting crime and now we're condemned for fighting crime," he said. "It is interesting to me, as we deal with the whole criminalization of many in our community, that the premise of a lot of this media is that I should have been with the mob rather than with the government."
"I've done a lot of things in life. Some that if I could do again, I would do differently," he added. "But in this situation, I did what was right."
Mr. Sharpton further insisted that the story–reported by The Smoking Gun yesterday–was old news, much of it previously shared in his own 1996 book. The circumstances, he said, were simple: As he tried to increase the participation of black promoters in the music industry for artists like James Brown and Michael Jackson, he received death threats, which he took to police. He was then asked by law enforcement officers, he said, to record the men repeating the threats.
"We had conversations for the purposes of trying to solicit these guys to repeat the threats," Mr. Sharpton said, describing the music industry at the time as "dominated" by mobster. "The conversations were recorded. And I would record them today if somebody threatened."
"That is not an informant," he maintained. "I was never told I was an informant with a number. So in my own mind, I was not an informant. I was cooperating with an investigation," he said, comparing his participation to his current efforts passing information he's told to police in cases like the Kendrick Johnson killing in Georgia and his work with police on stop-and-frisk in the city.
He further insisted that he hadn't met many of the men he was linked to in the papers, including Vincent "Chin'' Gigante, who reportedly spent years pretended he was crazy to escape prosecution by shuffling around the West Village in a bathrobe.
"I have never met any of these guys in the newspaper. The guy with the pajamas? I don't walk around with guys that walk outside with pajamas!" he said. "I never met him."
The Smoking Gun story comes just as Mr. Sharpton is set to hold his annual National Action Network national convention, which is expected to be attended by Mayor Bill de Blasio and President Barack Obama–a coincidence Mr. Sharpton said didn't surprise him.
"We're used to the attacks," he said. "The only thing I was embarrassed by was those old, fat pictures. Could y'all use tomorrow's cover, the new slim [ones]?"