This retrospective of the German artist Sigmar Polke finds profound coherence in what is often termed his eclectic style. Unlike previous Polke surveys it mixes mediums: alongside painting and drawing there's photography, sound, video, film and collage.Their combination proves key in assessing Polke's reinvention of painting. From his rasterized halftone dot paintings, to paintings in photographic silver bromide (a light-sensitive chemical that darkens over time) on Bubble Wrap, and even uranium-exposed photographs, Polke effected a tectonic shift in how we think about what a painting can be.
The first two galleries are full of greatest hits from Polke's Kunstakademie Düsseldorf era in the 1960s: early paintings of ready-made consumer items like chocolate wafers and socks. These, Polke's "Capitalist Realist" paintings, are influenced by American Pop, but, made in postwar Germany, have an entirely different relationship to consumerism than their confident American counterparts. Paintings made on bedsheets speak to a scarcity of materials as much as an embrace of the comical printed-flannel ready-made. There are also recordings of Polke and friends jamming; in one track, Polke plays saxophone while a TV show about the Third Reich yammers in the background. Politics underpin the work.
Sound from recordings, film and videos plays throughout the show, with music from one gallery bleeding into the next room. Before his death in 2010, Polke hinted to Kathy Halbreich, the exhibition's curator, that music was integral to his vision for a retrospective, and her installation's layers of sound are reminiscent of Polke's layered images on canvas.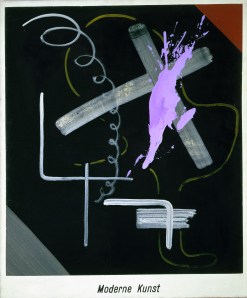 The show's third gallery is full of false starts: a painting from 1968 has flat purple and white crossing lines, a parody of painterly abstraction complete with a mocking caption: Modern Art. There is previously unseen 1972 footage from German TV showing the greasy-haired, bespectacled artist creeping along the Berlin Wall: he's pretending to be a particle. I loved his Telepathic Session II (William Blake–Sigmar Polke), in which ropes implying psychic communion connect two gridded boards of "Yeses" and "Nos." One work sticks a lattice of small potatoes on the face of a painting.
Then comes the mature work. Paintings of mushrooms and psychedelic materials move toward layering media and push how the meaning of an image can alter through repetition. Polke came to think about painting as no longer merely a relationship of surface to support, but a process by which multiple and even accidental meanings can be conjured by stuttering, repeating and misregistering images on a plane.
By the seventh gallery, there's a return to painting—with Negative Value, a 1982 triptych in iridescent colors, Polke makes paintings that are hard to see: they seem purple when viewed straight on, but green or brown from other angles. Shapes and symbols seem to emerge from the gestural surfaces.Increasingly exotic material experiments follow: paintings made of sooty smoke on glass or rare natural pigments, or which use radioactive materials on colored photographic paper. From the 1980s until 2010, Polke often made paintings with semitranslucent ground such as ridged plastics or Bubble Wrap. They incorporate 19th-century stock images of myths and magicians. The implication: artists are a species of modern magician whose transformation of materials is a kind of alchemy. That a video about one of Polke's largest and final projects, the cut-crystal geode stained glass windows of Grossmünster Church in Zurich, is crammed in an alcove at the end of the show is indicative of how much couldn't fit in this retrospective.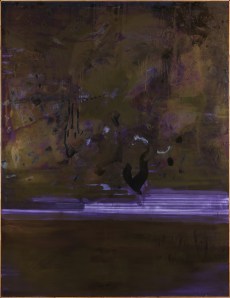 By the end of Polke's career, as this retrospective makes clear, he had redefined painting from a surface onto which a concrete image is set down, to a kind of moving, changing screen that embraces chance and photography, printmaking and video.Ms. Halbreich suggests that for the postwar painter, visual ambiguity represented a resistance to the ghosts of Germany's wartime political narratives and the authority that accompanied them.
Polke's paintings created a new terrain. Martin Kippenberger, Jutta Koether, Michel Majerus, Ken Okiishi, Laura Owens, and R.H. Quaytman number among those who set up painting practices there. In Polke's chemistry and bubbles and ridged screens, we see the Internet with its endless depths of images welling up. What's more, his paintings are not cynical; they re-enchant the world of images and the possibilities of picture-making.
(Through Aug. 3, 2014)