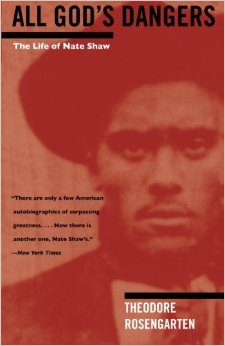 This past weekend, a little-known book called All God's Dangers: The Life of Nate Shaw was resurrected from obscurity when it surged to the top of Amazon's rankings and became the bestselling book in America.
The reason for the sudden boost in popularity was a New York Times article by the book critic Dwight Garner, which appeared online on Friday and on the front page of the New York edition of the Times arts section on Saturday. By Saturday evening, the book was No. 1 on Amazon's best sellers list, and its sales numbers had surged by a staggering 1,542,000 percent, according to the website's Movers and Shakers list.
All God's Dangers is a 600-page oral history, compiled by Theodore Rosengarten, of a black Alabama sharecropper named Ned Cobb. (Nate Shaw was a pseudonym.) It won the National Book Award in 1974 and was well-reviewed. "But it seems to have vanished from the culture at large," Mr. Garner wrote in his critical appraisal.
Until now, that is. Garrett Kiely, director of the University of Chicago Press, which has published All God's Dangers in paperback since 2000, said the article—and the concomitant boost in sales—was a welcome surprise.
"We vaguely knew something about the New York Times interest in the book because they'd asked us for copies to check some details," he told the Observer. "But we didn't quite know what it was, and it was nice to see."
Mr. Kiely said that most copies of the book are sold for courses at the university level: history and African-American studies, for instance. "It wasn't off our radar," he said. "It was just off everybody else's radar."
This isn't the first time that academic books from the backlist have gained momentum due to a mention in the news cycle.
Friedrich Hayek's The Road to Serfdom, a seminal book of economics also published by University of Chicago Press, had languished in academic circles until a positive mention by Glenn Beck sent it to the top of Amazon's best sellers list in 2009.
Another book of economics, Thomas Piketty's Capital in the Twenty-First Century, published by Harvard University Press, is the current best-selling book in the United States, according to Amazon. It appeared in the No. 2 spot alongside All God's Dangers over the weekend, possibly boosted by Paul Krugman's glowing review in the latest issue of The New York Review of Books. (As Mr. Kiely noted, it was a rare treat to see university press books at the top of the listings; All God's Dangers, as of this writing, remains in the top 100, at No. 17.)
Mr. Garner, who, as one of three daily book critics for the Times, maintains what is perhaps the most influential perch in American literary taste-making, said he had never in his years as a reviewer seen one of his articles affect a book's sales in this way.
"Being able to give a small boost to worthwhile books is easily the best thing about being a critic," he said in an email to the Observer. "But no, I've never seen anything like this. We're not talking about a new Michael Lewis book here; we're talking about a 40-year-old autobiography of an illiterate sharecropper in the deep South. This is deep Americana."
He added: "Ned Cobb is worth every bit of the attention, and I suspect he'd love it."