It's about 4 p.m. on a Friday and the natural light in architect Reinaldo Leandro's corner apartment in West Soho floods the room. "I love the sun exposure in my living room," he says. Mr. Leandro makes up half the duo Ashe + Leandro with his partner, Ariel Ashe. They recently designed the backstage area for Late Night with Seth Meyers, as well as the Downtown loft of Coldplay's lead guitarist Jonny Buckland. Originally from Venezuela, Mr. Leandro's passion for art and design is clear from the moment his door opens. His eclectic and impressive art collection spans from a de Kooning lithograph to a series of African masks and art pieces by Karl Haendel, Dan Colen, Rashid Johnson, Paul Morehouse and Richard Aldrich. As they begin another set of high profile projects, Ashe + Leandro will continue to enrich the New York design world with their contemporary statements.
How did you approach designing your home versus how you approach a client's space? I basically treat myself like any other client. What are my needs? How much space am I working with? Storage space was a big concern, as it is for any client here in New York.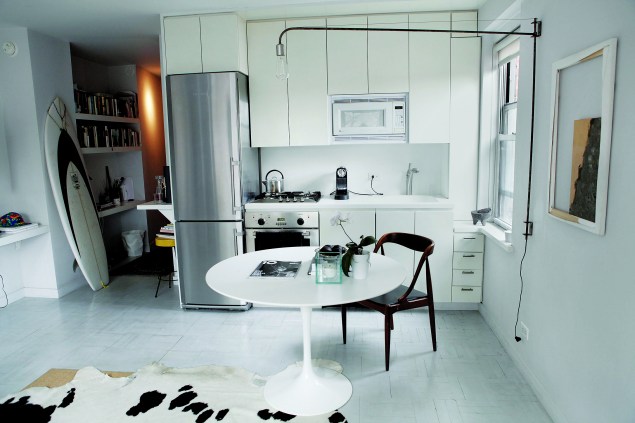 Which elements did you know you had to incorporate into your home? The space is not huge; in fact, it is only 500 square feet. I purchased it as a studio apartment with a separate kitchen. I was able to configure a separate bedroom, which was key. The kitchen is integrated into the living space and the bedroom is behind a big sliding door.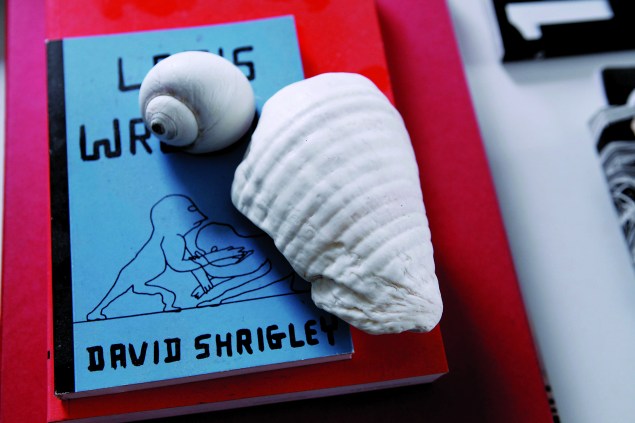 Your aesthetic has been referred to as "Tropical Modernism." How did that play a part in the design of your home? In this particular case it is more about objects than materials, though I do have lots of plants, which I guess is how the term originated. My plants coexist alongside bright-colored art and lamps, set against a monochromatic background (white walls and white floors). I recently bought the apartment next door and hope to continue this look by combining the two and exposing the concrete slab as a floor. Alternatively a terrazzo floor would be interesting, which is really popular in modern Latin American architecture.
Were there are any trends you shied away from when designing your own place? Reclaimed wood, taxidermy and Edison bulbs were very trendy at the time. I'm glad I managed to mostly stay away from them and keep a cleaner palette. I like concrete, stone and polished wood.
Where do you draw inspiration? Well, I'm from Venezuela so I draw a lot of inspiration from where I grew up. Hence the fascination with the aforementioned materials—they are the core of modern architecture in Caracas. As far as everyday inspiration, I learn a lot from traveling. I was recently in Mexico City and Los Angeles and I love colonial Spanish architecture, something that's very much ingrained in me. Vegetation is also incredibly important to me, because it has a lot of texture and I'm very drawn to raw materials.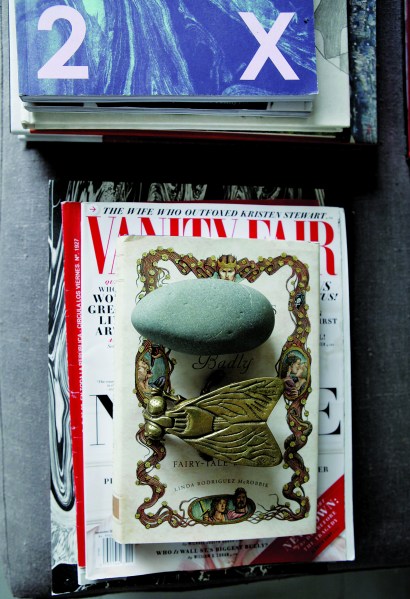 Speaking of traveling, you also just completed a four-story house in London. Yes, it's a Victorian home and we wanted to keep that spirit. We didn't feel comfortable remaking or adding (fake) Victorian details, but we managed to preserve the style of the house and also weave in some nice contemporary elements. We used a traditional style herringbone floor pattern but chose a very light contemporary (almost Scandinavian) wood, for example. The builders used plaster for the moldings that managed to be both contemporary and Victorian. We kept the winding central stairway mostly as-is but painted the railing black instead of utilizing the original dark mahogany.
What makes New York home? I can't imagine myself anywhere else. I spent a lot of time here as a child and it was always a dream to live in New York. I've been here for 12 years and I still can't believe it. Now that my business is here, it definitely feels like home. Ariel and I both live within walking distance of our Soho office.
How often do you rearrange? I constantly rearrange the art. Besides that, the apartment has been the same since I finished it. I do think it's time to redo my sofa. And I'm in the planning stages of my next renovation, which is really exciting. Ariel's been on a rug-buying frenzy in Morocco, and I've been saving some for my new place. I have an antique Beni Ourain and leather Touareg rug ready to go.
And how often do you buy art? It's really the only thing I enjoy buying, about one piece a year. I usually turn to Bortolami Gallery in Chelsea and the gallery of Lisa Cooley on the Lower East Side. I designed both spaces. I got two Richard Aldriches and one Thilo Heinzmann from Bortolami. The last purchased piece was by Paul Morehouse whose studio I visited recently.
I also know you just completed the artist Rashid Johnson's home. Back in 2007, I purchased two of his early wax pieces and was able to meet him. As life tends to come full circle, we just completed the New York home he shares with his family. It was a fascinating collaboration and a fun project.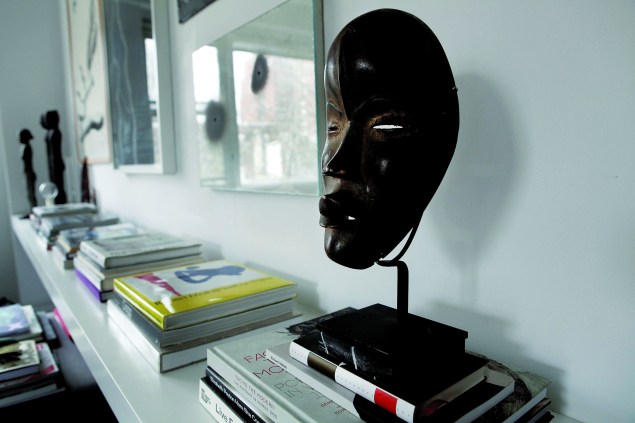 What kind of projects are in the pipeline for Ashe + Leandro? We are about to start a four-story house in Brooklyn and apartments in the West Village and Tribeca which I am really excited to begin working on.