With a gridlock of Broadway shows scrambling to meet the deadline for 2014 Tony nominations, there's a nightly reprise on the Great White Way of Cole Porter's "Another Opening, Another Show." Sadly, I don't have enough space to properly review everything in one column, but in compiling a few thoughts, I've noticed one trend that fits them all: good actors enhancing mediocre plays that might otherwise sink without a trace (and in the case of a pile of toxic swill called Hedwig and the Angry Inch, one that actually does).
The Velocity of Autumn is an uneven two-hander with a couple of vibrant things going for it: a great set by legendary scenic designer Eugene Lee (Sweeney Todd) of a Brooklyn townhouse with glass windows dominated by the orange leaves of a towering tree in the full throttle of autumn, and a volcanic performance by Estelle Parsons. Deafening applause greets them both as soon as the curtain rises. She is an aging bohemian named Alexandra, asleep in a colorful schmatta, her hair a ragged nest of mattress stuffing, clutching a Molotov cocktail.  
From this arresting intro, a slight 90-minute play without intermission (another trend I heartily approve) begins. Suddenly her slumber is invaded by a man climbing the tree and banging on the window. It's her gay son Chris (Stephen Spinella), estranged for 20 years, who has flown in from New Mexico at the insistence of his two concerned siblings who have given him one hour to talk the stubborn old lady out of blowing up the house before they call the police. She hates her other two children, who grew up to be pragmatic and dull, but there's no love lost between mother and this son. "Keeping you in diapers was like the Bataan Death March," she snaps.  
Once an eccentric but successful painter, Alexandra never showed much passion for parenting, but in the ensuing shouting match that passes for conversation, it's obvious she was a productive and creative New York mother who provided Chris with a memorable childhood—taking in cultural excursions and haunting museum exhibits, followed by a sundae at every 9-year-old's paradise, Rumpelmeyer's.
Time changed everything. Chris's gayness made his father uncomfortable, "like gorgonzola cheese." Now getting old is a problem, and a condition Alexandra cannot get used to. Her children want to put her in a nursing home, and she's not going without a fight. The mop boards on the elaborate living-room set are lined with bottles and jars of flammable liquids attached with bow ribbons, part of a master plan to send the house—and the past—up in flames. What's the point of living, anyway? Her knees are gone. She can't hold a paintbrush. She no longer feels attached to the world. Clenching her fists and squinting her eyes like a bull ready to charge, she's holding on to the last vestiges of life. She's fed up with breaking down by day, and furious with waiting by night. Her beloved tree is her only friend: "A tree knows how to mind its own business." 
If you can imagine Estelle Parsons saying a line like that, you know how good The Velocity of Autumn is when she works overtime to keep it alive. Unfortunately, writer Eric Coble never manages to make the inevitable rapport between mother and son completely convincing, and Molly Smith's direction is amiable but bland. Mr. Spinella's trademark whine and ineffectual vocal limitations never give Ms. Parsons the thrust and parry she needs. What she does as a consummate actor is give the audience a memorable blueprint of aging. Getting old, losing independence and preparing for death are not things anyone can teach you. There's no curriculum for it. But in her vibrant performance, Estelle Parsons conducts her own very special master class.
WATCHING THE IMPORTED PRODUCTION from London of Martin McDonagh's dark, harrowing, cruel but sometimes very funny 1997 play The Cripple of Inishmaan, I felt like I was in a foreign film that desperately needed subtitles. Aside from that, I thought it was for the most part robustly staged, with a boiling witches' cauldron of shabbily intense ensemble players, and a career-transforming performance by Daniel Radcliffe.
This is the one about the dreary, hardscrabble lives of people living on one of the three bleak Aran Islands off the remote western coast of Ireland, and how their lives were changed forever in the year 1934, when Robert Flaherty arrived to film his documentary The Man of Aran. Everyone in the village—from the violent, mean-spirited wench Helen (Sarah Greene), who breaks dozens of eggs on the head of her brother Bartley (Conor MacNeill), to the dock worker Babbybobby (Padraic Delaney) and the mischievous village gossip Johnnypateenmike (Pat Shortt) who feeds his aging mother poison in an attempt to bump her off—hopes the excitement of an actual movie will relieve the relentless drudgery of daily life in Inishmaan.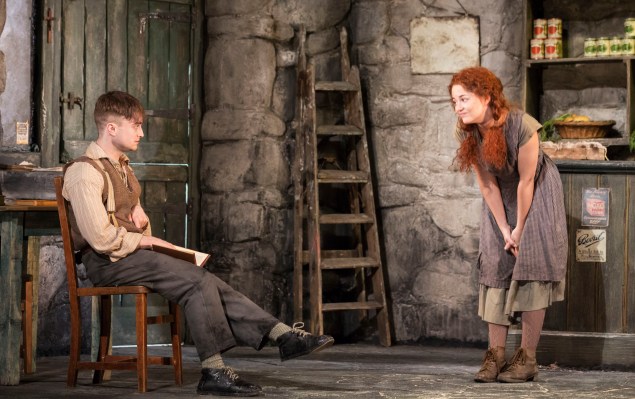 But for the troubled title character, the filmmaking has a life-altering effect. Born disabled, with an arm and a leg twisted into impotent uselessness, deserted at birth by suicidal parents and raised by two elderly "aunties" (Gillian Hanna and Ingrid Craigie) who run the local grocery store, "Cripple Billy" is an abused object of ridicule, until he finally summons the courage to run away to Hollywood to naïvely pursue a career as a movie actor that will make the villagers proud of him. All he finds in America is poverty, despair and sickness. When he returns home, disillusioned and approaching the point of no return, he's coughing up blood, but there's a suggestion that a downtrodden hero might at last be facing manhood with renewed hope and the promise of his first kiss.
Despite my affection for some of his stage work, Martin McDonagh is an uneven writer. (His demented script for the ghastly film Seven Psychopaths was one of the worst screenplays ever written.) The actors, imported from the U.K. production, are first-rate. Michael Grandage's direction milks the humor from the consciously eccentric characters, although I feel the play would benefit from more rigorous pacing. It is Daniel Radcliffe who most strongly impresses. Building an admirable stage reputation for charm and versatility—romping naked in Equus, singing and tap dancing with a perfect American accent and a lot of show-biz panache in How to Succeed in Business Without Really Trying, and now hobbling a torturously twisted body around the stage in a performance of power and persuasion—he has escaped Harry Potter bondage at last.
DESCENDING FROM THE CEILING LIKE a demon butterfly in one of Lady Gaga's platinum wigs, the once-charming all-American boy Neil Patrick Harris bursts out of the closet in a toxic explosion of noise, dirty sequins and body odor, but Hedwig and the Angry Inch is so awful you just gotta laugh.
The invisible narrative line of this pointless androgynous freak show is the pitifully contrived tale of a German boy named Hansel Schmitt, child of an American G.I. and a Communist mother in East Germany, who marries a rich American, changes his name to Hedwig Robinson and ends up penniless, divorced and deserted in Kansas. The "angry inch" is the inch of penis that is all he's got left after a botched sex change in Berlin. Sometimes an inch is all you need. 
John Cameron Mitchell, the deluded author and original star of the 1998 Off-Broadway rock musical production of Hedwig, has woefully updated the material to include references to the Belasco Theatre, where the current fiasco is being staged, as well as some of its previous inhabitants. This forces Mr. Harris to lick the stage (I kid you not) and say it tastes like Kathy Griffin. From the bombed-out set of what he calls "The Hurt Locker—The Musical," he also eats a lighted cigarette, undulates his way into the audience, licks the ears and bald heads of a few male theatergoers and at one point rises from the hood of a wrecked car looking like Chief Sitting Bull. 
Prancing in high heels and ripped pantyhose, he also screams and wails his way through a tone-deaf score by Stephen Trask that should be burned. Stripping down in the end to near-nakedness for no reason, he is merely ridiculous. Mr. Harris has many talents, but I have no idea what attracted him to this creepfest, staged by Michael Mayer with a G-string sledgehammer. Mr. Harris takes a giant step backwards. Minus the grotesque wigs, a nice-looking boy with an obvious fondness for Sondheim turns into a very ugly woman with a passion for drag-show musical garbage. "This is everything I despise about what's happened to the theater today," I said to a friend after 90 minutes of excruciating, ear-splattering bad taste. "Yes," he replied. "And all of it in the same show."