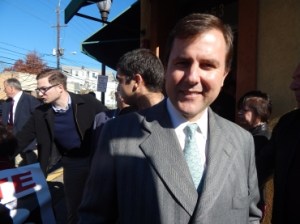 TRENTON – Tucked away in the interview notes of the administration's internal review of the George Washington Bridge lane closure controversy is a fleeting reference to the state Senate's minority leader.
State Sen. Tom Kean Jr. is briefly referenced in the Mastro report interview notes released Monday. Kean was mentioned in the interview notes of longtime Christie spokesman Michael Drewniak.
Drewniak described the governor being upset with staffers – including Drewniak – during a Dec. 13 senior staff meeting. The spokesman described Christie expressing frustration over a statement Drewniak issued in response to a story about an alleged conversation between Christie and New York Gov. Andrew Cuomo.
"At the meeting [on Dec. 13], the governor also expressed that he was upset because the office had now made two mistakes since the election, referring to events involving state Senator Thomas Kean Jr., as well as the communications failure in connection with the lane realignments," reads the interview notes for the internal report.
The report did not go into details of the "mistake" involving Kean. However, the statement is likely reference to Christie's attempt to oust Kean as Senate minority leader after winning re-election in November.
The governor later said he was "not very" involved the attempted GOP leadership shakeup.
"The governor said, in sum or in substance, that given the national attention on the office in the wake of the election, everything had changed, and, as such, everyone in the office had to be particularly aware of how they conducted themselves," the report continued.