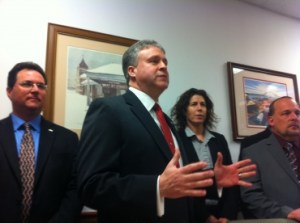 BAYONNE – The battle of Bayonne fully took to the airwaves this week as insurgent mayoral candidate Jimmy Davis launched his first television advertisement this week. The Davis TV spot hit the airwaves on Monday.
The ad is paid for by The Committee to Elect James Davis.
Incumbent Bayonne Mayor Mark Smith, Davis' opponent, has already launched three TV ads. The last one precisely encapsulated two of the Smith campaign's assaults against Davis: the location of Davis' domicile and his voting record.
The ad questions Davis' lack of life-long residency in Bayonne, a point of pride for many in the Peninsula City. The Smith campaign ad also asserts that Davis did not vote for 20 years, from 1988 to 2008.
In an interview with PolitickerNJ.com, Davis, who was raised from birth in Bayonne, noted that he left Bayonne from 1989 to 2001 for fiscal reasons.
"Back in 1989, I was 25 years old, married and looking to buy my first house. I was only making 20 grand as a police officer," said Davis, who joined the Bayonne Police Department in 1986 and is now a captain. "We couldn't afford Bayonne, so we wound up buying a home in Rahway."
Davis added that his two sons from his first marriage now live with him in Bayonne, and his son from his second marriage is now a first-grader at Mary J. Donahue Elementary School, a Bayonne public school.
Davis admitted that his voting record is "not perfect," but said that he has voted in every major election in Bayonne since 2008 for a distinct reason.
"I thought Bayonne needed to change. I've known Mark Smith since I was nine years old. I didn't expect him to run for mayor [in 2008]. I didn't vote for him either time since," said Davis, 51. "This election should be about nothing but the issues. Let's talk about taxes. Let's talk about the [development of the former Military Ocean Terminal] base. Let's talk about our teachers. Broadway is in the worst shape we've seen in the history of Bayonne. Let's move forward."