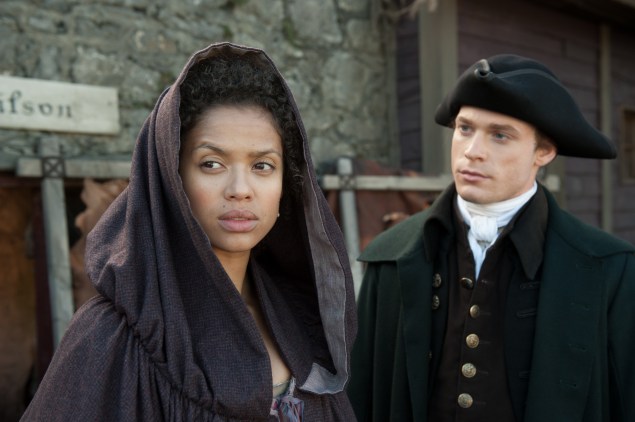 Elegant and understated, Belle is a true story about the effects of slavery on 18th-century England, told in the style of a sweeping romantic saga by Jane Austen or the Brontë sisters. It's a fascinating period costume drama with the usual lavish upper-class appointments, refined manners and graceful language, but beneath its décor lies the heart of a woman whose courage and dedication to justice is strongly credited with influencing the legislation that led to the abolition of the slave trade.
---

Belle ★★★
(3/4 stars)

Written by: Misan Sagay
Directed by: Amma Asante
Starring: Gugu Mbatha-Raw, Matthew Goode and Emily Watson
Running time: 104 min.

---
A chief reason to rejoice is the star performance of Gugu Mbatha-Raw, a beautiful and sensitive biracial actress who radiates warmth and intelligence in every scene. She plays Dido Elizabeth Belle, a black Caribbean slave and the illegitimate child of Captain Sir John Lindsay (Matthew Goode), an unmarried, white British admiral. The girl is brought to England in 1769 to be raised by the captain's regal, well-bred but embarrassed family—the distinguished chief justice Lord Mansfield (Tom Wilkinson) and his snobbish wife (Emily Watson)—with the support, protection and education a great lady deserves. 
When her father dies at war, Belle remains, growing to maturity alongside her equally beautiful cousin, Lady Elizabeth Murray (Sarah Gadon). Even though she never fully overcomes the onus of race, Belle is in the unprecedented position of also being an heiress. Having been left a fortune by her father, Belle is privileged and adored, unaware that everyone refers to her behind closed doors as the judge's "notorious mulatto," a secret disgrace never allowed in the dining room when company calls. Eventually, Belle awakens to the injustice in her own home when she asks, "How can I be too high in rank to dine with the servants but too low to dine with my family?"
While Elizabeth's only goal is to find a suitable husband, Belle grows more interested in politics, turning her back on aristocratic suitors in favor of a handsome but penniless vicar's son named John Davinier (Sam Reid), despite her uncle's disapproval. Astutely aware of John's liberal views about helping the socially disenfranchised and a critical case of racial discrimination called the "Zong Case," which her uncle is about to try in the highest court of law, Belle challenges the rigid rules of the British class system, colonial oppression and male-dominated society and is widely credited with ending the permissive slavery laws in Great Britain.
Misan Sagay's erudite screenplay is well served by director Amma Asante (A Way of Life), balancing political issues with personal passion. The seamless cast fills the corner of every sumptuous room and every seedy back-alley pub with dedication and fervor, from the beguiling Ms. Mbatha-Raw in the title role, to Tom Wilkinson as her decent surrogate father, in whom Belle reawakens the need for sound judgment over popular opinion, to Penelope Wilton as her starchy Aunt Mary and Miranda Richardson as the bitchy mother of one of Belle's suitors. 
The film is unfortunately too slow for most tastes, moving ponderously from one revelation to the next without any kind of dramatic action or mood shift. I liked this movie, but the leading lady is often depicted as passive, with too little to do or say. Belle could use a little more fervor, and so could Belle.