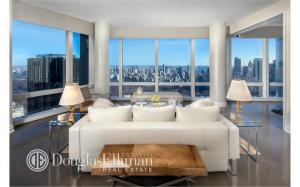 Although Time Warner Inc. announced earlier this year that they had sold their stake at 25 Columbus Circle, the sparkling address that bears the company's name, they will continue operating at the Time Warner Center until 2019. And it seems fitting that for at least some portion of the years to come, a man who made a fortune collecting on delinquent—and/or allegedly delinquent—cable bills will call the place home. Nathan Levine, founder and CEO of the Dallas-based Credit Protection Association, has just purchased a $15 million three-bedroom on the building's 69th floor, according to city records. (And if that sounds like an awfully pretty penny for the chief of a company specializing in "in low-balance, high-volume collections," please recall how quickly those Time Warner line items can add up.) 
Just last week, we reported on a $30 million Time Warner unit scooped up by an Israeli financier, and though Mr. Levine's new pad clocks in at only half that closing price, it's still quite an enviable spread. With floor-to-ceiling windows, views of Central Park from every room, built-in surround sound and an iPhone-operated blind and lighting system, the condo would make an excellent location for a rap video—or perhaps just very refined catered affair? Newly-renovated, it features "finishes of white painted burlap over silver leaf and bespoke waxed limestone plaster over silver leaf and trough rust clay," according to the listing held jointly at Douglas Elliman by Tal Alexander, Oren Alexander and Jamie Safier. What exactly that all means we cannot say, but we're sure that it's fine, expensive stuff. 
Other appointments sound somewhat ominous. "Flame wall sconces, rock crystal lamps, and antiqued back-painted glass closet doors" bring to life a "fire and ice" motif in the master bedroom, while a wall covering is "reminiscent of a silver forest." A guest bedroom has a "pillow fight accent" that is "equally unique." That the design is singular we do not doubt. We also suspect, however, that there might be good reasons for that.
Mr. Levine takes over for an entity known in public records only as 69-B LLC, which acquired the apartment a year ago for $13 million. A $2 million profit is small potatoes in the world of Manhattan apartment flipping. Still, we're pretty sure the former owners won't have to worry about Mr. Levine knocking on their door about the cable bill.