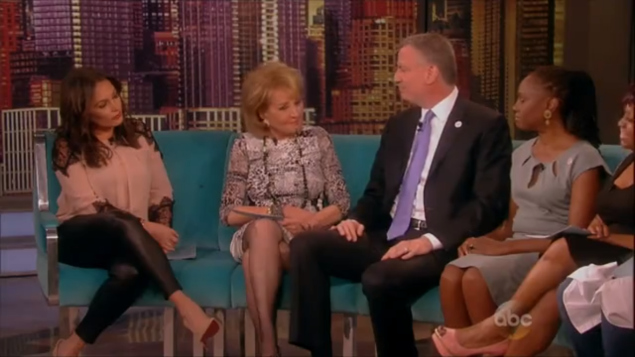 Mark your calendars: There's a new day in New York City.
Mayor Bill de Blasio today visited the set of The View, where he presented retiring co-host Barbara Walters with an official proclamation declaring May 16, the day she is expected to retire after a decades-long career, "Barbara Walters Day."
"Can I have a mayoral privilege?" began Mr. de Blasio, on set with his wife, Chirlane McCray. "This is a formal New York City proclamation. And as everyone knows, on May 16, you conclude your extraordinary service on this show. I have to tell you, for over 50 years Barbara, you've been a legend in this town."
"I didn't expect this. It's very kind," interjected Ms. Walters.
"Because you've done so much for New York City–because you've done so much for the television industry–and you've enlightened and informed us now for 60 years, May 16 will be Barbara Walters Day in the City of New York," he said.
The rest of Mr. de Blasio's first appearance on the daytime talk show focused on family-oriented questions about the new mayor's childhood, marriage and children.
Ms. McCray talked about objections from their respective families about their interracial marriage. "Yes, there was. I think, actually, Bill's mom objected more than anyone," she said.
"I love her but it's true," Mr. de Blasio added. "You have to get used to it. Later Chirlane became her best friend. I do want to tell the happy ending."
Update (4:40 p.m.): The proclamation text, via the mayor's office:
"BARBARA WALTERS DAY" PROCLAMATION TEXT

Whereas:Few have come close to matching the trailblazing accomplishments of Barbara Walters, who for more than 50 years has been getting some of the most "ungettable" – and unforgettable – interviews and scoops of our times. Barbara started as a Today Show writer in 1961, later rising to the position of co-host before moving to ABC Evening News as the first woman co-anchor of a network news program. And since those days, she has time and again broken new ground for women and for the field of modern journalism. Our city is proud to count Barbara among its living legends, and to help honor her tremendous achievements.

Whereas:Chirlane and I have now had the distinct privilege of sharing the couch with Barbara as guests on ABC's The View, which has become one of daytime television's highest-rated shows since she created it in 1997. During many of our nation's most history-making moments, Americans have tuned in to shows like The View, ABC Evening News and 20/20 to watch Barbara Walters make history herself, posing the tough questions to countless statespeople and stars including every U.S. President and First Lady since Richard and Patricia Nixon. Her journalistic excellence has rightly won her a string of major accolades, including a whopping 11 Emmy® Awards and our city's own "Made in NY" Mayor's Award for Lifetime Achievement.

Whereas:Millions of viewers and fans will join the cast and crew of The View to salute Barbara on her final day. She'll stay on as an executive producer, but after all that she has achieved, we will understand if she prefers to remain strictly behind the scenes as she continues to inspire talented women to pursue careers in television. The final installment of Barbara Walters' 10 Most Fascinating People aired last year but if she doesn't mind, I would like to make an addendum to the list: Barbara Walters, a true New Yorker and a remarkable woman whose extraordinary work has helped define our era.

Now therefore, I, Bill de Blasio, Mayor of the City of New York, do hereby proclaim Friday, May 16th, 2014 in the City of New York as:

"Barbara Walters Day"