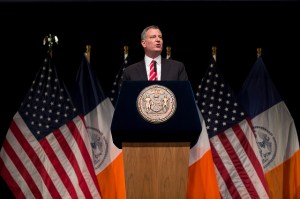 Mayor Bill de Blasio is not giving up on his minimum wage hike dream.
Though his ballyhooed proposal to raise the city's minimum wage quietly died in Albany, Mr. de Blasio said today he was going to try again.
"It's something we believe in fundamentally. I think the minimum wage needs to be increased. I think it needs to be indexed for inflation going forward and I think New York City should have a right to make this decision on our own," Mr. de Blasio told the Observer at an unrelated press conference in Queens.
In his State of the City address earlier this year, Mr. de Blasio called on the state legislature to give New York City the authority to set its own minimum wage, arguing the city's cost of living far surpassed other parts of the state.
Gov. Andrew Cuomo immediately panned the request, however, and Mr. de Blasio said it became apparent that the overhaul was not going to happen in the most recent round of budget negotiations, which provided the city with $300 million a year to fund universal pre-K.
"I think it was clear in the last few weeks that this was not going to be something that we move right away so we turned our attention to a number of other things," he said.
Many Albany observers believe that Mr. de Blasio's minimum wage goal remains a long-shot, especially because it would force the state to bequeath power to the city. The state legislature also recently agreed to hike the state-wide minimum wage in increments, leaving less appetite among top lawmakers to revisit the issue.
Still, Mr. de Blasio said he would continue to fight for the hike.
"We are going to, on an number of items, continue the agenda right away and this is one of them," he said.