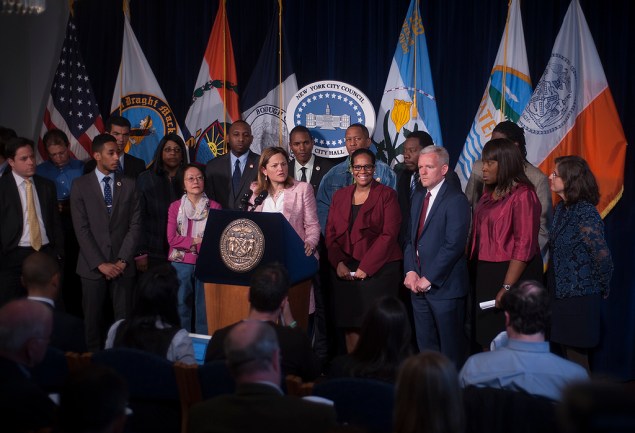 Mayor Bill de Blasio this afternoon offered a luke-warm assessment of one of the City Council's major budget priorities and flatly dismissed another.
This morning, City Council Speaker Melissa Mark-Viverito and a gaggle of other members unveiled the council's preliminary budget recommendations, which include hiring an additional 1,000 cops, eliminating school lunch fees and creating a panel to look at ways to overhaul the city's arcane property tax code.
"The recommendations we are rolling out today not only present a budget that is fiscally responsible, but a budget that remains true to the council's commitment to making ours a city that helps all New Yorkers in all five boroughs," she told reporters at a press conference at City Hall.
The proposals, if enacted, would amount to an added cost of $257 million–about 0.4 percent of the overall budget, Ms. Mark-Viverito said.
But speaking in Albany today, the mayor questioned the logistics of offering free lunches to every public school kid in the city, regardless of economic need. Though he said he believes "the goal is the right one," he pointed to "a couple of wrinkles" in the plan, including fears that "it may have a boomerang effect in terms of denying us a certain amount of federal funding."
"So we need to understand what the economics are and we're working on that right now … that's an open question that, until we resolve it, we can't move forward," he said.
He also pointed to the cost of the program, which advocates say would help mitigate the stigma sometimes associated with the free meals.
"We're going to have to make a series of tough choices. In some cases, we're going to be able to focus and prioritize some things. Other things will have to be phased in over time," he said." But in the meantime, we have to understand better these federal funding dynamics."
Mr. de Blasio left less wiggle room when it came to the request for more cops, which supporters, including Councilman Jimmy Vacca, have argued would save the city significant overtime money and would allow police to better handle the new administration's priorities, including increased traffic monitoring.
"I give tremendous respect to the men and women of the NYPD and of course to Commissioner Bratton. They're doing an extraordinary job. Crime remains low. And let me give them additional credit for continuing the healing process between police and community. So the resources we have now are getting the job done," insisted the mayor.
"We're in a structural deficit. So I am not in the business of adding to that deficit when I believe we can get the job done with the resources and personnel we have now," he said.
Mr. de Blasio is set to present his executive budget on May 8.