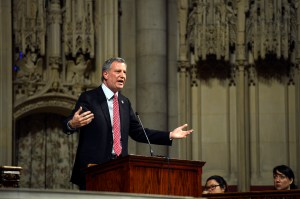 Mayor Bill de Blasio is planning what appears to be a major policy speech next week, according to an invitation obtained by the Observer.
The speech, somewhat vaguely titled "Address on New York City's Future," will take place at Cooper Union on April 10–exactly 100 days into his new administration.
"The first 100 days always hold a lot of symbolism and meaning for any new administration. De Blasio will likely use the speech to highlight progress he's made fulfilling certain campaign promises like UPK and expansion of paid sick leave, and he'll lay out in more detail what he plans to do on other priority issues," said one source who received the invitation, which was first reported by Capital New York.
Mr. de Blasio's last major speech, outlining his agenda, was his State of the City address in early February.
The mayor's office did not immediately respond to a request for comment.
The invitation, sent out earlier this evening, can be viewed below: