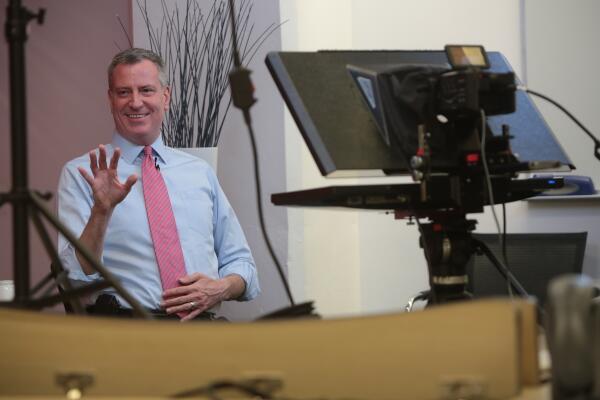 Mayor Bill de Blasio hung out on the internet today with some of his closest friends.
Mr. de Blasio traveled to Google's Chelsea headquarters to host a "Hangout"–the company's term for an online video chat session–where he fielded questions about the city's future. Many of those questions came from supporters who seemed to know Mr. de Blasio well.
"Mr. Mayor, it has been a privilege and an honor knowing you well before being elected for mayor and we prayed for your success," began Imam Tahir, who said he is from Staten Island and asked about the role of private schools in the pre-K discussion.
"Mr. Mayor, we worked together on environmental issues in the past when you were still a councilperson and so I know you have a commitment to the environment," said "Christine from Manhattan," inquiring abut composting infrastructure.
"Christine and I have had a chance to work together for years now, starting on electronics recycling which was something that was … just a wonderful, wonderful experience," Mr. de Blasio replied, vowing to expand composting efforts. "We have so much more to do and so much more we can do." (Mr. de Blasio went on describe himself as an "obsessive recycler. At home I train and educate my children on a regular basis … At City Hall, I will remind people that things in the wrong bin.")
Mr. de Blasio even faced a question from a member of his own administration's transition team–Jukay Hsu of Coalition for Queens–who wanted to know about tech training for the city's low-income and minority communities. "Thank you Mr. Mayor for your vision and for inspiring me and all of us. It was an honor to be part of your transition team," said Mr. Hsu.
Overall, most of the questioners were similarly supportive–"I'm a big fan of your progressive agenda and it makes perfect sense to me and I'm looking forward to it," gushed "Jeffrey from Brooklyn." But the mayor did field at least one critical question on his decision to hire former Brooklyn Borough President Marty Markowitz to boost outer-borough tourism.
"For businesses like ours–we are people who own Bronx-based companies–we're both pleased that you're taking the outer boroughs seriously, but a little bit worried that you appointed Brooklyn's No. 1 cheerleader and the Bronx may yet be an afterthought when it comes to attracting tourists," said Anthony Ramirez. (Mr. de Blasio guaranteed that the Bronx would not be forgotten in response.)
Asked about the question selection process, a Google spokeswoman told the Observer that Mr. de Blasio had actually broken new ground by being the first pol to use their "Q&A App," which she said was run by television host and de Blasio Hangout moderator Alicia Menendez.
"Once they start the broadcast, the audience can submit new questions and vote on existing ones. We algorithmically rank the questions. Hosts can select a question to answer which bookmarks the video for playback later," said the Google rep, Becca Ginsberg Rutkoff. "The Mayor is the first politician that we have seen use the Q&A App and take open questions via it."