Twitter announced yesterday that it's acquiring Gnip, a company that analyzes tweets, Facebook likes and Tumblr reblogs for marketers.
It seems like an obvious move. Why should Twitter sit by and let third-party companies profit from its massive content output without getting in on the fun? Still, marketing groups like Gnip have been profiting from social media companies for some time. Twitter is only the most recent in a line of tech startups trying to get in on the action.
Bitly, too, sat on its own database of social behavior data for years before recently making moves to license it. So Bitly CEO Mark Josephson isn't surprised by the Twitter acquisition.
"There's continued acknowledgement that data from social is really valuable for targeting ad value and ad spends," he told Betabeat. "As the business matures, it's not uncommon for a social platform to say 'we think our data is valuable, we're going to work with other companies.'"
Twitter's Firehose
A "firehose" is the stream of all of the data generated by a social networking platform in real time. Every day, Twitter's firehose pumps out about 500 million tweets — everything from news wires and financial analysis to pithy commentary, outrage, Kanye gifs and the occasional Middle Eastern revolution.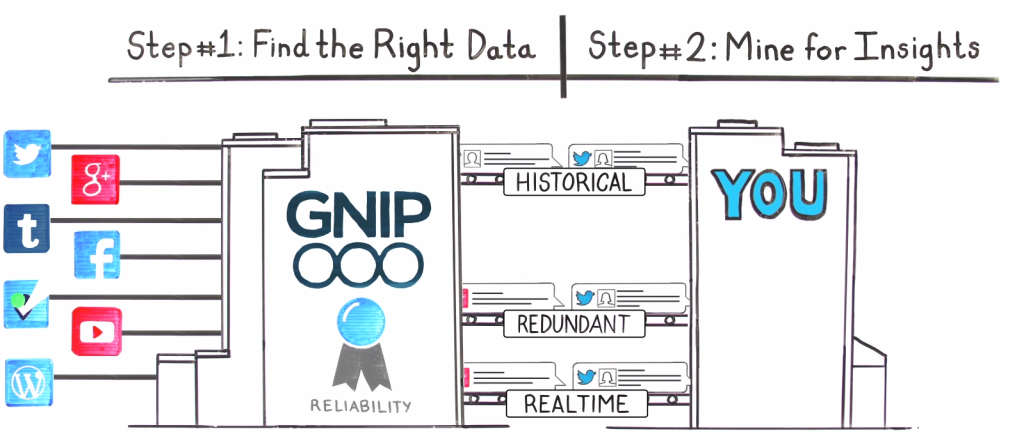 A small handful of companies pay Twitter for complete access to that firehose, taking all of that raw social data and repackaging it in useful ways for paying clients. The interest in these kinds of analytics is diverse — healthcare, government, security — but the target clients for these services are marketers.
Gnip was the first company to have this arrangement with Twitter, but that's not the only firehose they're connected to. Gnip builds their datasets by layering data from the firehoses of Tumblr, Foursquare, Facebook, YouTube, WordPress, and others.
Until now, Twitter has always left the data-wrangling to third parties who paid for licensing. Now, Twitter owns one of the biggest companies in that space.
Getting their hands dirty
Many have quickly pointed out that Twitter may be looking for new streams of revenue as their stock prices continue to slowly slide downward. But licensing their firehose only accounts for 11 percent of their revenue — so surely this kind of acquisition is only a small play (or so the logic goes).
As Mr. Josephson aptly puts it, 11 percent of any business can't be discounted, especially when it means expansion into a lucrative new sector.
"It may have been 11 percent of Twitter's business last year, but they were outsourcing," Mr. Josephson said. "Now they get the entire Gnip team, who are laser focused on making sure that the data is organized and structured to take it effectively to market."
Apple made the first meaningful acquisition in this space when they bought Topsy in December, and Mr. Josephson says this is just the front edge of the growing social data industry.
"There's a huge market for connecting social data with their spending patterns," Mr. Josephson said, "a market for understanding consumer data and intent, and translating likes and shares into buying patterns."
Taking cues from social media as part of a marketing strategy isn't exactly a late stroke of sudden genius, but for a long time Twitter was allowing services to leverage their data without getting their hands dirty.
Now at least Twitter has a dog in the fight.