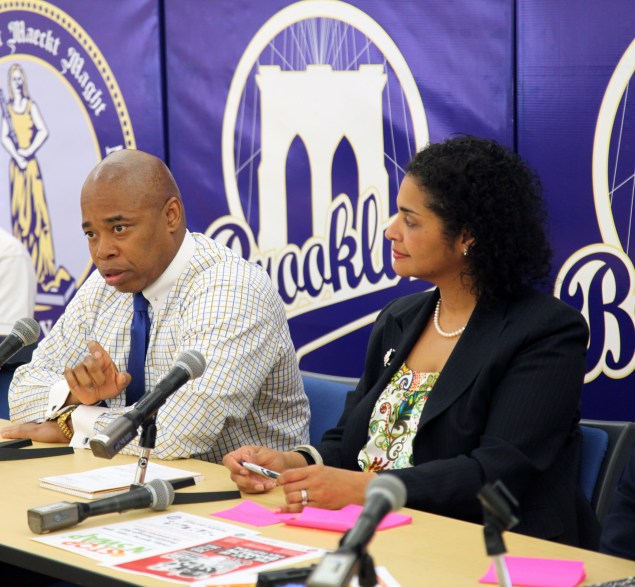 Brooklyn Borough President Eric Adams isn't hiding his future ambitions.
The newly-minted borough leader–who was recently quoted saying that Mayor Bill de Blasio was "just keeping the seat warm for me for eight years. Maybe four"–openly admitted yesterday that he wants to be "promoted one day" to a position above his current job.
"When I was a police officer I wanted to be a captain. When I was a captain I wanted to be a state senator," Mr. Adams told the Observer, speaking with bloggers during a media sit-down at Borough Hall. "I think that I want to be promoted one day. And if it is being promoted to be the mayor of the city of New York … I'd be open for that opportunity. But I have a job to do. You don't become mayor by just wishing for it."
He made clear, however, that any new position would require work in his current one.
"You have to do your job. You have to show that you can lead a borough as large as Brooklyn," he emphasized. "The people of the city may say, 'Hey, let's look at what he did in Brooklyn, maybe he can do it in the city of New York.'"
But don't look for Mr. Adams to launch any primary challenges against Mr. de Blasio. The Brooklyn Daily, which published the seat-warming quote earlier this month, also quoted Mr. Adams saying, "I'm with him for as long as he wants to be mayor."
Either way, it's clear Mr. Adams, a former state senator hailing from Central Brooklyn, is looking to make a name for himself in his new role as borough president, an office that has declined in influence over the years.
During yesterday's media sit-down, Mr. Adams repeatedly touted big-picture projects to promote financial literacy, affordable housing and technological infrastructure in the borough. He also vowed to "spend the bulk of our time in the street" dealing with constituent issues.
"Many of my colleagues in government have rolled out 100-day reports. I have been spending 100 days creating a different environment in Borough Hall–an environment where my staff is going to understand that we cannot deal with the problems of this borough by being in this building. This building is attractive in appearance; we love the marble floors, we love the wooden doors in the hallway," he said. "But the reality is that people are hurting outside."