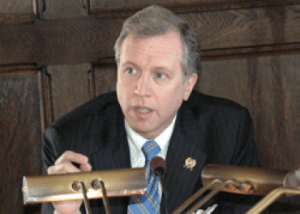 CHAMBER TRAIN – The state lawmaker helping to lead the charge into investigating the Gov. Chris Christie administration over the George Washington Bridge lane closings has some friendly advice for his colleague who serves across the aisle.
Stick with lawmaking, not comedy, says Assemblyman John Wisniewski (D-19) of Assemblyman Jon Bramnick.
Wisniewski, co-chairperson of the joint legislative committee investigating the lane closure controversy, was responding to Bramnick's recent quip about changing the name of the so-called Bridgegate investigation to the "Wiz-gate" hearings.
"Clever," Wisniewski responded with a smile on Wednesday.
"While it's clever, I think Jon Bramnick is a better minority leader than a comedian," he added.
Bramnick, who was elected to the Assembly in 2003, is well known for his standup comedy routines.
Apparently Wisniewski doesn't attend the performances.
Bramnick was quick to respond.
"What is funny is that Steve Kornacki of MSNBC appears to be the new co-chair of the committee. Announcements of committee actions have been made on the Kornacki show with co-chairman Wisniewski," he said.
"The term Wiz-gate is appropriate in order to make it clear to the public that this is not a bipartisan investigation," Bramnick continued. "We have the former chairman of the Democratic Party acting unilaterally and in a partisan manner without the involvement of duly appointed members of the committee."