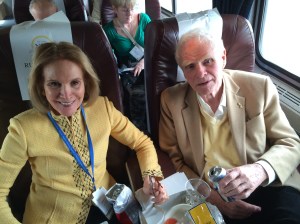 CHAMBER TRAIN – Unlike the ride to the nation's capital, the return trip aboard the chamber train is a bit subdued.
But among the closed eyes and quiet conversations are a handful of smiling faces, including that of former Gov. Brendan Byrne. Byrne, who recently celebrated his 90th birthday, has been attending the annual events for decades and says this year's event was as good as any.
"I thought he handled himself very well," said Byrne, referring to Gov. Chris Christie's keynote address at the New Jersey Chamber of Commerce dinner.
"And Rush Holt gave us a great history lesson," added the former governor's wife, Ruthi Zinn Byrne.
The train is scheduled to arrive in Trenton before 2:30 p.m. and make its final stop in Newark an hour later.