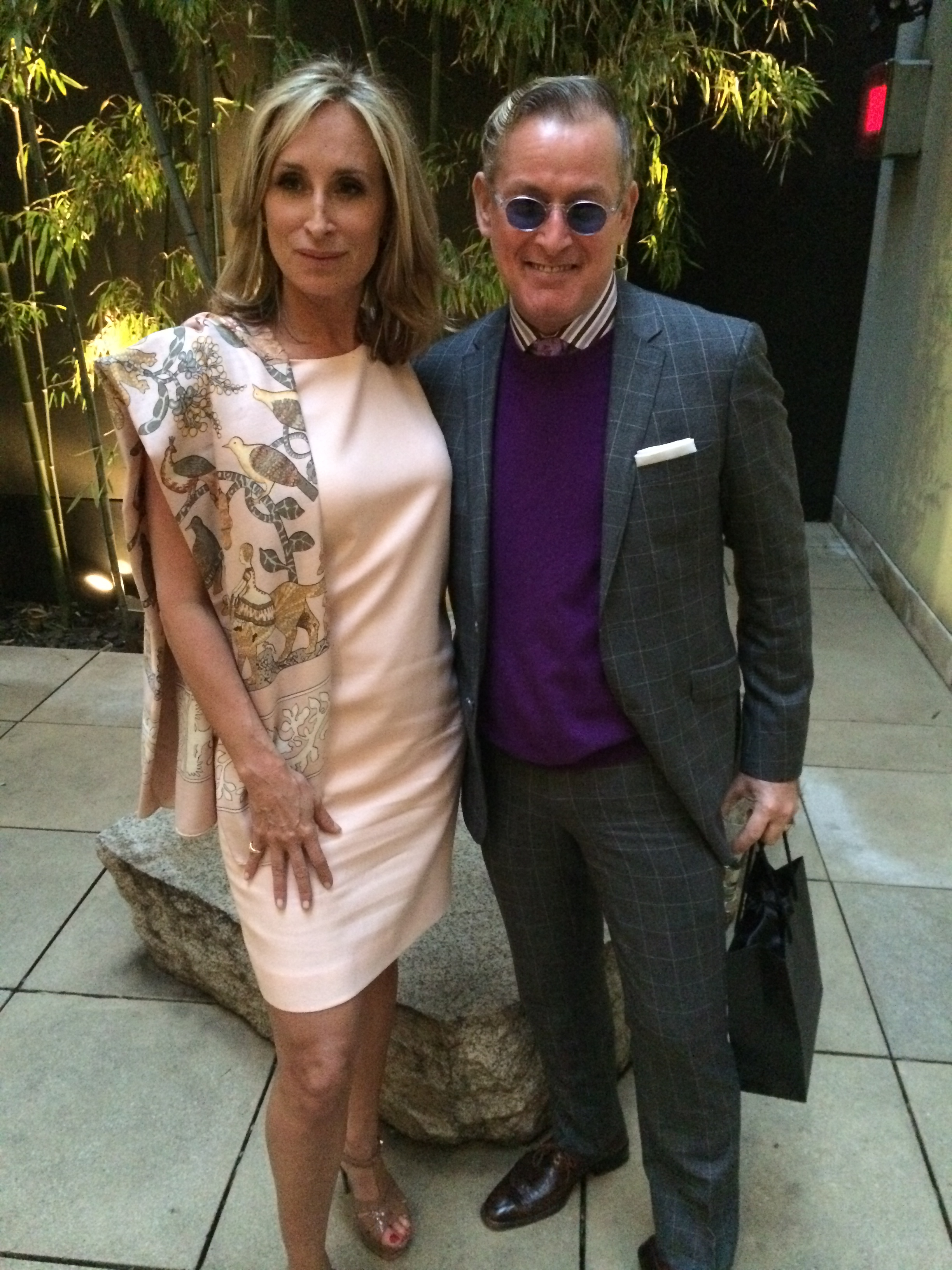 When it comes to marketing herself beyond her TV show, a reality star has countless options. She could AutoTune her way through a dance-pop anthem. She could slap her name on a line of wines. And there's always the trusty sex tape route.
But none of those options will do for Sonja Morgan. The Real Housewives of New York star and former wife of J.P. Morgan heir John Adams Morgan is pretty sure the answer might lie in luxury merchandise. Or event planning. Or something called "caburlesque." Anything but her ill-fated toaster oven line, really.
Allow us to explain. We ran into Ms. Morgan with her pal, image consultant Montgomery Frazier, at a benefit for City Harvest at Donna Karan's Madison Avenue boutique. Officially, we were fêting David Burke's Townhouse restaurant. Unofficially, we were marveling over how the chef managed to squeeze crunchy peanut butter, thick-cut bacon and fried dates onto a single toothpick.
After spotting Ms. Morgan and Mr. Frazier, we invited them to come outside for a chat, with with Ms. Morgan's punky fashion intern trailing behind.
And boy, can Ms. Morgan and Mr. Frazier talk. We could barely get a question in. But we did learn everything one would ever want to know about Ms. Morgan's future plans, in all their permutations. She hasn't been shy about her recent money troubles, having recently filed for Chapter 11 bankruptcy. So it's easy to see why she's weighing her franchising options.
Mr. Frazier is advising Ms. Morgan on how to handle her career and image, he explained.
"She has a huge gay following," he said. "She's got a very young following. And she could actually be the modern day Fanny Brice. But, like, the Barbra Streisand Fanny Brice."
"That's so funny," the Observer began, "because —"
"Hello Dolly!" Ms. Morgan broke in, referring to her performance at a breast cancer benefit with Lorna Luft and Liza Minnelli, televised earlier this week. "It's my own special brand of whatever-it-is. I don't do cabaret or burlesque. So I call it caburlesque. I write these comedic skits that are self-deprecating humor which is very much like the original Fanny Brice, the first woman comedian. But then he [Mr. Frazier] says I really am more like Barbra Streisand with the hair."
"I also say she's going to do Dancing With the Stars," Mr. Frazier said. "Honestly, just ask Andy [Cohen] if he would do you a favor and give you a call. They would totally consider."
"I love all those costumes and headdresses," Ms. Morgan said. "If you watch the show, you know I wear headbands and gloves. I went to FIT [and received a bachelor's degree in marketing]. Right now, I'm wearing Yves Saint Laurent tributes, I've got the pink shift on, the Hermès scarf, the Hermès bag. Where's my bag?"
Ms. Morgan's intern handed her a clutch.
"I told her she's got a very big gay audience," Mr. Frazier cut in. "And the girls have not done bad by the gay audience. Madonna, Christina. All the ladies have not done bad by having a gay audience, I said. And they love her because there's something natural about her."
Ms. Morgan once performed at an event in the Hamptons to raise money for LGBT youth, she pointed out. It was Hank Stampfl's Speakeasy Moderne, which benefited LIGALY, Long Island's Gay and Lesbian Youth Center.
"I was the calling card to sell tickets, because I have the contacts with Sonja in the City," Ms. Morgan said, referring to her event-planning business. "People say, 'Oh, name-dropper!' on the show, but my contacts are my currency. If I don't drop names, I'm dropped from the list, you know?"
She described her lunch earlier that day.
"I'm sitting today at Ruhlmann's, you know, Jean Denoyer. I'm down there at NBC Rock Center. Every man that's walking out I'm like, 'boom, boom, boom,' Lord this, Head of Sci-Fi channel that. I know them all. I was in the business. That's the business I was in."
Then, Ms. Morgan described the next episode of Real Housewives of New York, which aired about three hours after we spoke (click here for the Observer's recap).
"Ramona and I have a tiff," she said. The argument stemmed from Ramona Singer's failure to appear at her second caburlesque show. "I said, 'You're hurting my feelings because I have a lot on my plate right now.' Single mom, I'm running two houses, one in France, one in New York, developing my international fashion lifestyle brand because we figured out doing the toaster ovens was a dead end."
Ms. Morgan launched a toaster oven line a couple of years ago. The appliances aren't exactly flying off the shelves.
"You can't put Sonja Morgan in a toaster oven box," she continued. "You have to go with the lipsticks, the sunglasses, the scarves, the handbags, the lingerie, it's like a whole collection that should be international. The department stores told me I'm wasting myself doing napkins, aprons and a toaster oven. As much as my viewers wanted that."
"You're glamorous," the Observer offered. "You're not the stay-at-home cook."
"She would be like the Stepford version of like a toaster oven, you know what I'm saying?" Mr. Frazier cut in.
"He knows," Ms. Morgan said. "He is the image guru. He knows better than everybody."
"So you are moving toward maybe doing a fashion line," the Observer said.
"I'm looking for a big investor who makes the bagels, as we say," Ms. Morgan said. "The nuts and bolts. 'Cause I'm the face. Today I'm out from 6 to 5:30 doing appearances. I do the 20-minute red-carpet-ready smokey eye. It looks very much, as he says, à la Barbra Streisand. So he's right. He hits the nail on the head. Montgomery Frazier knows that's what people want. They want that same hairdo. Even when I'm doing toaster oven recipes, I'm dressed like that."
Then, Mr. Frazier grabbed Ms. Morgan by the chin.
"Look at this face," he said. "I mean, she's got an amazing profile. Okay? And her humor translates to straight men, but mostly gay men, but she's got a very big following because they like her, because there's something very genuine about her. No bull shit. She's played the whole Mrs. J.P. blah, blah, blah. She played that. Okay? That was her. This is then. This is the evolution of her."
"Mr. Morgan married me because he liked my frugality," Ms. Morgan offered, "my Berkshires sensibilities. He knew I'd be a great mom and I could run five houses and a yacht. And my gays love that about me too, and the young girls love my dating advice. So do gays. They love my dating advice. I love to give dating advice. I'm going to do a little snippet on for Bravo on BravoTV.com giving dating advice."
And then, as quickly as it had begun, the conversation ended. Ms. Morgan took time for a picture ("yes, do a selfie, they're cuter; they come out nicer") then headed back inside to keep chatting with Mr. Frazier and sampling hors d'oeuvres by David Burke.
After the conversation, we still have no idea what Ms. Morgan plans to do to supplement her Real Housewives income. But one thing's for sure: she's certainly got the energy to try whatever she wants.