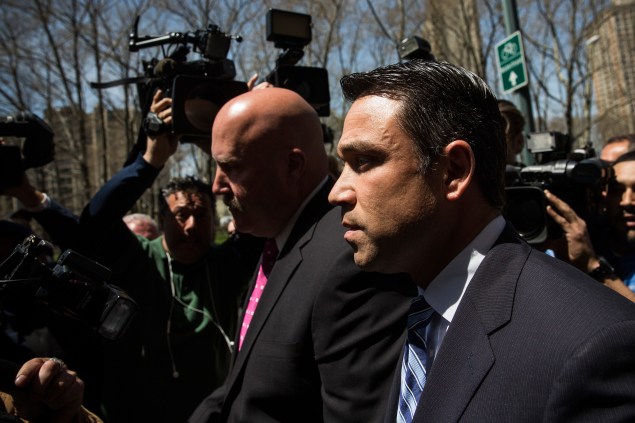 Despite threatening to throw a reporter off a balcony and allegedly having sex in a wine bar bathroom, Congressman Michael Grimm was arguably a favorite to win re-election at this time last week.
But Monday's indictment on a slew of wire, mail fraud and other charges badly damages the Republican's chances of surviving a challenge by Domenic Recchia Jr., a former Brooklyn councilman, observers say.
The Cook Political Report, a nonpartisan group that analyzes House and Senate races across the country and is known for its accurate forecasts, announced on Monday it believes the district now leans Democratic instead of Republican–a major blow to Mr. Grimm, who has dismissed the charges as a "political witch hunt" and vowed to remain in the race.
"As long as the Republicans stick with Grimm on the ballot, they're probably going to lose the district in the fall," Dave Wasserman, the U.S. House editor at the nonpartisan Cook Political Report, told the Observer, reflecting on the state of the race.
Before the indictment, Mr. Grimm seemed well-positioned to win re-election. Midterm elections tend to attract older, right-leaning voters who in the past have been supportive of Mr. Grimm, a charismatic ex-FBI agent whose combative conservatism won over many Staten Islanders, even as scandal clouds hung over him.
But Republicans locally and nationally are no longer bullish about Mr. Grimm's chances in an increasingly Democratic but traditionally Republican district, which also spans across a swath of southern Brooklyn. Even supporters now have their doubts.
"I think it makes it tough for him to run and have an indictment hanging over his head," said Mike Long, the chairman of the New York State Conservative Party and a resident of the district. "But the bottom line, depending on how he deals with the charges and how he moves forward, I believe he could still possibly win."
Two years ago, Mr. Grimm's challenger, Mark Murphy, won 46 percent of the vote–making clear that Mr. Recchia has a chance.
"That's the base Domenic Recchia can build on," said Tom Shcherbenko, a Democratic district leader on Staten Island, referring to the Democratic challenger Mr. Grimm dispatched with in 2012. "Now, because of the news, it's given Recchia's campaign a boost which is going to make for a really interesting and exciting race. It's kind of like the whole nation is watching now."
Mr. Recchia has his own pitfalls as a candidate, however, including past ties to disgraced ex-Brooklyn Democratic Party boss Vito Lopez and an address in the Brooklyn section of the district, which is viewed warily by many Staten Islanders. Mr. Recchia's association with liberal politicians could also damage his brand on Staten Island.
On the other hand, Mr. Grimm's fund-raising is likely to lag in the coming weeks, observers say. Lawyers fees could easily continue eating into his campaign account, while national Republican groups, viewing him as damaged, may reorient their outside cash elsewhere while emboldened Democrats could do the opposite.
Mr. Recchia, who has a million-dollar war chest, won't be wanting for money. And he has other benefits, including a more moderate demeanor that could translate well in Italian-American enclaves on both sides of the Verrazano–Narrows Bridge.
"Is he a good cultural fit for the district? Absolutely," Mr. Wasserman said. "He looks comfortable behind the counter of a pizzeria."