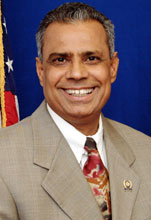 SOMERSET – A Democratic lawmaker locked in a primary against fellow Statehouse colleagues for an opportunity to succeed outgoing U.S. Rep. Rush Holt (D-12) in Congress didn't miss an opportunity to hear directly from Gov. Chris Christie Tuesday.
Assemblyman Upendra Chivukula (D-17) snagged a front row seat for the governor's 119th town hall meeting.
"I'm here out of respect for the governor," he told PolitickerNJ ahead of Christie's town hall in his backyard.
"He's come to my hometown," he said. "Why miss the opportunity?"
Chivukula is vying for his party's nomination against Assemblywoman Bonnie Watson Coleman (D-15) and Sen. Linda Greenstein (D-14), as well as Princeton professor Andrew Zwicker.
Republican CD 12 hopeful Alieta Eck also attended the event.
Eck is set to recieve the party's nomination to replace Holt.
The governor is expected to hammer Assembly Democrats and Speaker Vincent Prieto (D-32) at his latest town hall for the Democratic leadership's refusal in the lower chamber to concur with the governor's conditional veto of the expired interest arbitration cap for unionized police and firefighters.