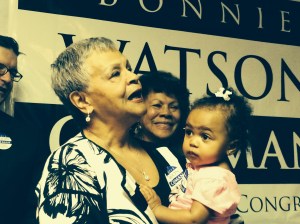 TRENTON – In the close race for the Democratic nomination in New Jersey's Twelfth Congressional District, state Assemblywoman Bonnie Watson Coleman (D-15) came close to home on Monday night.
Watson Coleman opened up her Trenton headquarters on South Broad Street, blocks from the Statehouse where she has served in the state Legislature since 1998. A few miles from her Ewing home, she was flanked by her Mercer County allies, including Mercer County Executive Brian Hughes and state Sen. Shirley Turner (D-15). At one point, Watson Coleman held her grandchild as she addressed a crowd of 75 supporters and made her case for Congress.
"I can be a voice in Congress, just like I think I've been a voice in New Jersey, standing up for working-class families, standing up for those who have the least among us, and where the least voice is heard," Watson Coleman said.
Watson Coleman in now locked in a June primary fight against state Sen. Linda Greenstein (D-14) and state Assemblyman Upendra Chivukula (D-17). The candidates hope to succeed U.S. Rep. Rush Holt (D-12), who announced in February that he would not seek re-election. The district is made up largely of municipalities in Mercer and Middlesex counties, Watson Coleman and Greenstein's home bases respectively, and also some Somerset and Union County municipalities, including Plainfield.
An internal poll released by the Watson Coleman campaign earlier this month showed a statistical dead heat, with 28 percent of those surveyed supporting Greenstein and 27 percent backing Watson Coleman. Only 7 percent favor Chivukula, with 38 percent of voters undecided.
In an interview with PolitickerNJ.com, Watson Coleman spoke about some critical factors she believes will put her over the top.
"In Trenton, I have relationships with the black clergy and with the churches, I'm very active in my church," said Watson Coleman, who attends Trenton's Shiloh Baptist Church and is married to the Rev. William Coleman. "We also have the Trenton mayoral race [in May], which is generating a lot of interest and excitement and is motivating people to get engaged. I think Trentonians know how important it is for them to engage because they need a certain kind of leadership. It's not just a post-[convicted ex-Trenton Mayor] Tony Mack era. This is a current Governor Chris Christie era. Urban centers like Trenton have seen what that kind of leadership has done to their communities. It's not just reacting to the failed mayor in this town. It's the failed leadership in the state of New Jersey that has urban centers engaged and concerned in a way they may not have been otherwise. People are motivated to support good leadership."
Watson Coleman and Greenstein have been battling to secure labor union endorsements. Watson Coleman believes that her labor backers are the true believers needed to run and win an effective ground game on the June 3 primary day.
"I have the labor people who are committed to me because of my record, and not because they want to backfill [Greenstein's] position with a labor candidate in the [state] Senate," Watson Coleman said. "I think motivation is very important when you have people who are volunteering on your behalf."
There has been considerable political discussion centered on the fact that if Watson Coleman is elected, she will be the first African-American female from New Jersey to serve in Congress. Watson Coleman looked at race as being a factor in the June 3 primary, but certainly not the only one.
"Barack Obama was elected President because he was a leader, smart, right on the issues and better than the other candidates he was running against," Watson Coleman, noting that her state legislative district is majority white. "My being an African-American woman is who I am. But my being an effective legislator and leader is also who I am."
After Watson Coleman spoke to her supporters, local residents socialized in her newly-opened storefront campaign office, eating fried chicken, macaroni and cheese and green beans. For lifelong Trentonian Karen Richardson, the choice is clear.
"My family has been involved in politics all of our lives. My grandfather was a Republican, and my brother is Doug Palmer," said Richardson, 58, referring to the first African-American mayor of Trenton, a Democrat. "People have to be aware that there is a primary in June and that they have to get out and vote. People who really know Bonnie know that she will do an excellent job in Congress. I know most Trentonians will get out and support her if they know that's she running. It's all about awareness."