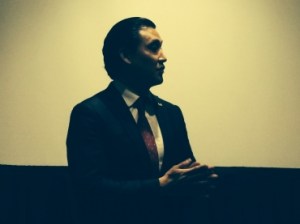 HACKENSACK – The campaign of Roy Cho, the Democratic candidate for New Jersey's Fifth Congressional District, announced on Wednesday that it had raised more than $250,000 during the first 2014 fundraising quarter in their effort to defeat Republican incumbent U.S. Rep. Scott Garrett (R-5).
According to a newly-released Federal Election Commission (FEC) report and an additional amendment, the campaign of Cho, 32, of Hackensack, took in total receipts of close to $252,000 in the first quarter of 2014 for a grand total of more than $471,000 raised to date.
Cho faces the challenging task of unseating Garrett, 54, a six-term incumbent first elected in 2002 in a district that generally trends Republican. The Fifth Congressional District includes most of Warren and Sussex counties, a few Passaic municipalities, and parts of Bergen County.
According to the April 2014 FEC reports, Garrett has raised more than $1.2 million to date, with more than $2.9 million on hand in comparison to Cho's more than $331,000 cash-on-hand total.
But the latest FEC fundraising report also indicates that the incumbent Garrett had total receipts of more than $215,000 in the first quarter of 2014, considerably less than than the challenger Cho.
A written statement from the Cho campaign noted that their candidate, a mergers and acquisitions attorney currently on leave, has only been actively campaigning since February, yet has generated campaign contributions that have far surpassed any of Garrett's previous Democratic Congressional challengers at this point in the election cycle.
"I am very proud and grateful for the record-breaking financial support I've received from supporters in the form of contributions large and small," said Cho in a written statement. "With Scott Garrett as our Congressman, northern New Jersey has suffered the very worst of what the Tea Party stands for — including gridlock in Washington where nothing gets done. Voters are beginning to see beyond Garrett's never-ending posturing while coming to know his real record."
Cho has already received 214 contributions under $300, according to the campaign. He has also received support from boldfaced names in the business and political communities, a fact evidenced by the some of the supporters listed on Cho's 2014 first quarter FEC report.
Bergen-based political power players such as state Senate Majority Leader Loretta Weinberg (D-37), state Senator Bob Gordon (D-38) and state Assemblywoman Valerie Vainieri Huttle (D-37) all donated to the Cho campaign, the report states.
Eunu Chun, a Korean-American partner at Kirkland & Ellis, the law firm where Cho is now on leave from his associate position, is also listed as a Cho contributor.
Chun, who has raised significant funds for President Obama, recently sent a firm-wide letter of support for Cho. Chun's cousin Jim Kim, the current president of the World Bank and the former president of Dartmouth College, has also expressed support for Cho.
The Garrett campaign could not immediately be reached for comment.