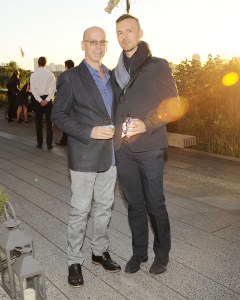 Philanthropist, corporate heir and LGBT activist Jon Stryker never blinked after listing his combo penthouse at 50 Central Park West in October for $48 million, and we admire his pluck. (He bought what were then two adjacent apartments in 2002 for a thrifty $12.8 million, which was at the time an Upper West Side record; that this fact now appears rather quaint indicates just how quickly and to just what extent Manhattan real estate has lost contact with what most of us tend to think of as "reality.") Ultimately, Mr. Stryker was not to get the full asking price, but his favorite charities need not fret. The Kzolp Realty Trust, with one Lawrence E. Fabian as trustee, has just pulled the trigger on the apartment for $42 million, according to city records. John Burger, of Brown Harris Stevens, had the listing.
Mr. Fabian, an apparently low-profile lawyer specializing in real estate and intellectual property, seems like something of an unusual pick for such a huge transaction. But we do not doubt that the buyers' judgement, and their taste, is sound. One would hardly need a discerning eye, though, to appreciate their new apartment's charms. The combination, carried out by Shelton, Mindel & Associates, has been judged "ingenious" and "masterfully done" by the American Institute of Architects, and featured in Architectural Digest. There are 5,600 square feet of interior space, and another 3,526 outdoors. Dark wood, white panels, coffered ceilings and finely-crafted millwork lend the co-op a striking combination of textures and tones, while soaring ceilings contribute both stateliness and drama. There are floor to ceiling windows, a trio of comfortable bedroom suites, a second-floor "atelier," and views of park and skyline. Bathrooms and kitchen look just like you expect them to— who needs surprises in those categories, anyway?—and the double penthouse boasts "a tower rooftop terrace," which sounds quite regal indeed. And handy, too, in case barbarian hordes happen to overrun the 1907 Beaux-Arts Prasada building.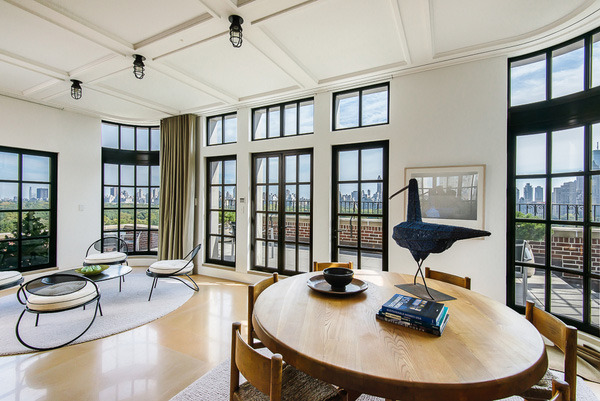 The grandson of Homer Hartman Stryker, the founder of the medical supply firm Stryker Corporation, Mr. Stryker is himself a trained architect and the president of the Arcus Foundation, which supports Great Ape conservation, as well as various social justice endeavors. The critically-threatened Myanmar sub-nosed monkey (Rhinopithecus strykeri) is named for him. He is, in other words, an ideal co-op applicant. For the time being, the buyers' resume remains mysterious, but we have a hard time believing it lives up to Mr. Stryker's. After all: C'mon, who doesn't love a monkey?