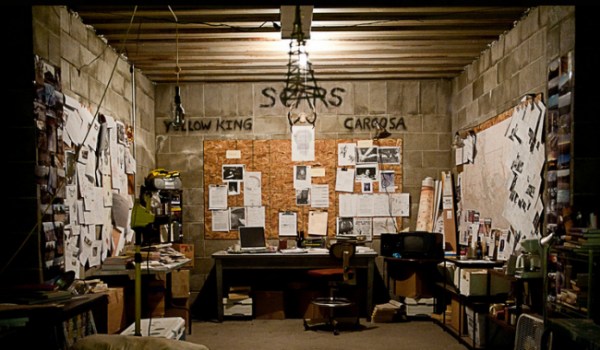 There I was, finishing up the last two episodes of True Detective, watching Rust pull into the AAA storage facility where he drunkenly set about solving the cold case, when I actually gasped.
I'm fairly certain I once held a storage unit in that exact facility. I bought it on Groupon, strangely enough, to store some books there until I had a big enough place to set them all up. It had been a rather inconsequential part of my time in New Orleans. (As an aside, that spot had been wiped out during Katrina; Groupon had not disclosed this fact.) But suddenly, it had a tinge of meaning to it.
In the words of Walker Percy, it had been "certified."
Percy, himself a New Orleanian, first articulated this phenomenon in his classic 1961 book The Moviegoer. The loosely autobiographical book featured a movie-obsessed protagonist trying to escape the "everydayness" of his life. In one memorable scene he is at the Prytania Movie theater when the exact neighborhood he is sitting in appears in the movie he's watching.
"Nowadays when a person lives somewhere, in a neighborhood, the place is not certified for him," Percy wrote, "More than likely he will live there sadly and the emptiness which is inside him will expand until it evacuates the entire neighborhood. But if he sees a movie which shows him his very neighborhood, it becomes possible for him to live, for a time at least, as a person who is Somewhere and not Anywhere."
For most of Hollywood history, it's a feeling accessible only to Angelenos and New Yorkers, excepting the one movie shot on location everywhere else. After a certain point, you grow almost immune to it. But as media production has democratized and spread, the feeling becomes more distributed as well.
It's just not movies. For instance, I was living not far from the Percy family house in the Garden District when I read The Moviegoer. I've even been to the movie theater he talks about in the book. Why does this matter? I don't know. But it does, it really does, as anyone who has ever lived somewhere where this could happen will surely attest.
The Greeks and Romans loved to point out the places where their myths had supposedly happened (whether they actually did or not). For centuries, the rest of us have traveled to find the spot where Caesar was stabbed, where they stood at the Alamo or Thermopylae, where the troops landed at Normandy.
There is a Latin proverb historia magistra vitae (History is the teacher of life). This is why we respond to stories. We learn from them. They teach us moral lessons, and provide powerful examples, warnings and perspective.
But what about commercial stories? Why does it feel cool to sit at the When Harry Met Sally table at Katz's Delicatessen? It's history, I guess, but trivial history.
For most of the latter half of the aughts, I lived and worked in Downtown Los Angeles—otherwise known as the "go-to generic urban establishing shot" for any movie or television not shot on location. Out my eighth story window, I would watch as New York City cabs and buses zipped by on the street below for CSI: New York. I saw my apartment building stand in for Chicago, Manhattan, and god knows where else. I saw it stand in as a nice building and as a ghetto building. I have friends who lived in the loft building where New Girl is supposedly based. I think Dre's apartment in The League was in my building. I can even recognize Downtown LA in pornography.
I watched as this formerly abandoned neighborhood forged an identity with its inhabitants—partially bonding over the fact that crappy entertainment was made there. And not just crappy entertainment, but movies, shows and commercials that deliberately pretended they were portraying somewhere else. It was like having a girlfriend who doesn't want to be seen in public with you.
New Orleans has been interesting to watch. Especially now it is filmed more than basically anywhere else in America. Studios spent $661 million in New Orleans in 2012 and a recent report showed that in 2013 Louisiana produced more major-studio films than California, earning its new moniker as "Hollywood South." Finally, New Orleans is certified as legit with the honor of being named after another city that predates it by nearly 200 years. Not even a city actually, a neighborhood in another city.
When I lived in Louisiana, Django Unchained was shot at my neighbor's house. They shot a Sly Stallone movie in my gym. The Benjamin Button house—that's what they call it—was just a few blocks away. Trent Reznor recorded an album nearby! John Goodman has a house here! (I never heard anyone point out or brag about the places where Birdman or Lil Wayne filmed their videos—that's not on the tour itinerary.)
It was fascinating to watch people, myself included, note these occurrences. As if these weren't houses that had survived the Civil War. Sly Stallone filmed at the gym sure…but in real life, and not that long ago, Huey Long took boxing lessons there. I found it so surreal that there would be a movie tour of one of the most historic and unique neighborhoods in the world. I took the Seinfeld tour of New York once—and if I think about it too hard my brain explodes.
Real history gets displaced by fictional history. Certification supercedes authentication.
As residents and witnesses, we start to think these moments say something about us by association. This certification suddenly becomes part of the city's history, part of some collective achievement. We're proud, we love the spot a little more because someone else seems to validate it too.
Of course the reality is being chosen as a film set says more about tax credits than anything else. In some cases it's more a statement about a city's genericness—the city's ability to stand in for other places—than about its actual personality and uniqueness. And yet, as residents we infer the exact opposite.
And the certification changes the way the city is seen—and sees itself. As David Their (an occasional Observer contributor) put it in Esquire, it's contributed to a reputation of mysticism for Louisiana. It's a fairly obviously point: just because a slew of movies and shows portray you as having unusual powers doesn't mean you actually do. They are fiction after all. But many Louisianians vehemently disagreed: No, this place is magical. And they think that primarily because of the Hollywood reputation of the last few decades.
I'm sorry, but a city doesn't absorb the traits it had on the screen. Just like Hugh Laurie couldn't diagnose you with a rare disease–even if he and his character seem almost inseparable.
I'm not attacking anyone. I'm the one who gasped when I saw my storage unit on television. A storage unit! I suppose I am just asking: what does this mean?
Walker Percy may be right. The attraction towards certification is often a function of a deficiency in ourselves. We feel unvalidated and we appropriate the decision of a location scout in order to fill that void.
The saddest part is that we do this at the expense of experiencing the present moment—and the actual history—that surrounds us.
Ryan Holiday is the editor at large of Betabeat and the author of the forthcoming book The Obstacle is the Way.