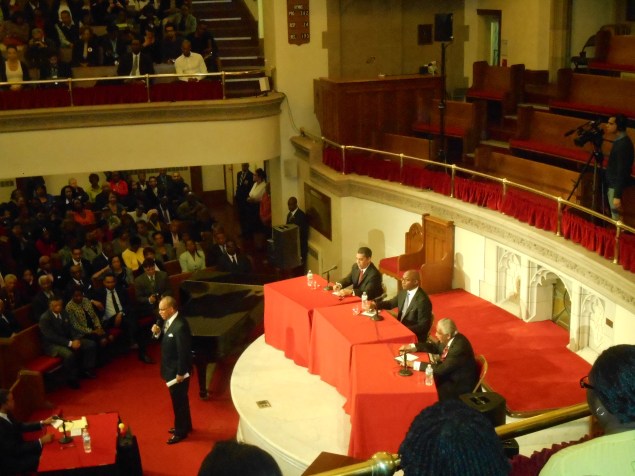 Congressman Charlie Rangel fended off a barrage of attacks tonight from his two challengers, who portrayed him as an agent of gentrification and a self-interested incumbent overstaying his welcome at the uptown Congressional race's first debate.
State Senator Adriano Espaillat and Pastor Mike Walrond, both trying to unseat Mr. Rangel, all but ignored each other, saving their fire for the longtime Harlem representative, who has held the seat since 1971.
"I think this district has taken a wrong turn. I think we've lost our way in the wilderness," Mr. Espaillat told a raucous crowd at the Abyssinian Baptist Church.
He argued the district had become "an epicenter of income inequality" and charged Mr. Rangel with failing to do enough to combat the trend. "It is a district of income inequality, it is a district of a housing crisis," he said. "It is a district where far too many immigrants … are waiting for this immigration reform that never gets here."
Mr. Walrond brought a fervid fan base to the church and asserted that he was the new voice of the district, which spans from upper Manhattan into the Bronx. He said he would work to combat the ideological polarization in Congress that Mr. Rangel claimed he and the president were both victims of.
"People are weary of career politicians. They are weary of persons who set a set of rules for themselves," Mr. Walrond declared in his preacher's cadence. "We need leaders who understand that to be a public servant does not mean giving into the status quo. We need leaders who understand that to serve people does not mean carrying on business as usual."
Mr. Rangel, meanwhile, continued to try to paint himself as the experienced hand and a partner for President Barack Obama, whom he invoked repeatedly. Though he didn't always take on Mr. Espaillat or Mr. Walrond directly, Mr. Rangel was feisty and spry, ready to refute barbs when he found the opportunity.
"If I thought for a minute either one of you could go to Washington, I'd be home with my wife and grandkids," Mr. Rangel at one point shot back at his rivals. Later, he argued he was the only person who could talk knowledgeably about immigration reform because he is a sitting congressman.
"Believe me, I am not married to this job just to stay here or until I drop dead," he said.
When Mr. Walrond began discussing his priorities "at home" in the district, Mr. Rangel ribbed him for living in New Jersey until only very recently.
"I just wonder whether you're talking about New York or New Jersey," Mr. Rangel quipped.
Much of the debate centered on the rising cost of living in uptown Manhattan, where luxury housing has surged, forcing many longtime African-American residents to leave. Each candidate bemoaned the gentrification wave that has transformed the district, and tripped over each other trying to assert how tough they'd be on real estate developers looking to build in the district.
Mr. Walrond said he would force developers to make 50 percent of housing "affordable" in any new development–a dramatic increase from current ratios. Mr. Rangel took it up another notch.
"I am not talking about 80, 20. I am talking about 100 percent," Mr. Rangel said. "I'm talking about recognizing that we have an emergency."