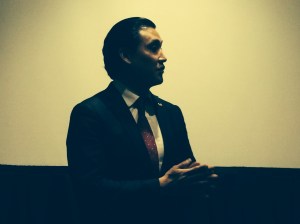 NEW YORK CITY – Roy Cho, the Democratic candidate in New Jersey's Fifth Congressional District, stood inside midtown Manhattan's Harvard Club on Monday, making the case that he can defeat incumbent U.S. Rep. Scott Garrett (R-5) in November. In a small, New York mahogany-paneled room, Cho noted what he believes it takes to get to Washington, D.C.'s marble halls of power.
"Asian-Americans, and specifically Korean-Americans, we've done an incredible job of climbing up the socioeconomic ladder," said Cho, 32, of Hackensack, the son of Korean immigrants. "We have covered the board in achieving the American Dream in this country. But our rates of political participation are still very, very low. If you want something in this incredible country, it's your responsibility to go out there and participate, take a risk, and engage."
Cho's goal of unseating Garrett, 54, a six-term incumbent first elected in 2002 in a district where voters haven't elected a Democrat since 1931, is a challenging one.The Fifth Congressional District includes most of Warren and Sussex counties, a few Passaic municipalities, and parts of Bergen County. According to the December 2013 Federal Election Commission report, Garrett has more than $2.7 million on hand for his re-election fight.
But the small crowd of approximately 40 power players from both sides of the Hudson gathered at Cho's Monday night fundraiser seemed eager to try to tip the financial balance more in Cho's favor.
From New Jersey came Bergen-based elected officials, including state Sen. Bob Gordon (D-38) and state Assemblyman Gordon Johnson (D-37). Also in the room were several individuals closely allied with U.S. Sen. Cory Booker (D-NJ): Mark Matzen, one of Booker's closest political advisers, as well as attorneys Victor Herlinsky and Elnardo Webster, who are prominent Booker fundraisers.
From New York came Mitch Draizin, the president of Longview Capital Advisors who has consistently donated to New York Democratic Congressional candidates, as well as Eunu Chun, a Korean-American partner at Kirkland & Ellis, the law firm where Cho, a mergers and acquisitions attorney, is now on leave from his associate position.
Chun, who has raised significant funds for President Obama, recently sent a firm-wide letter of support for Cho. Chun's cousin Jim Kim, the current president of the World Bank and the former president of Dartmouth College, has also expressed support for Cho.
Orin Kramer, a noted hedge fund manager and New Jersey native, was also present at Cho's fundraiser. Kramer was a top fundraiser for President Barack Obama during the 2012 presidential campaign, bundling at least $500,000 in donations for the President.
The end result of the presence of these politicos and money men in the room: over $100,000 into Cho's campaign coffers just before the end of the March quarterly fundraising report deadline.
"Very few of us have actually taken the leap to say I'm going to step off the rat race, stop my career trajectory, and do something for the public good," Chun said, noting the coalescence of Korean-Americans, a rising demographic group in Bergen County, behind Cho's candidacy. "He's the first one to do this, and none us of have had to the courage to do this before."
Gordon, who considered then declined running against Garrett, noted that Cho might have something besides courage necessary to win in November.
"The race is definitely winnable. It's a new district, it's a more Democratic district," said Gordon, noting the 2010 congressional redistricting map that included Bergen Democratic-leaning municipalities such as Hackensack, Lodi, Bergenfield, Bogota, Fair Lawn and parts of Teaneck into the Fifth Congressional District. "The six key Democratic towns represent more than 20 percent of the voter turnout. Roy does well in those towns, attracts a significant percentage of socially progressive, moderate Republicans in the state Legislative District 39 part of the congressional district, plus a majority of the Democrats elsewhere in Bergen, Sussex and Warren counties, and it's not a huge victory, but it's a victory."
On President John F. Kennedy's inauguration day, the famed poet Robert Frost advised America's new commander-in-chief to "be more Irish than Harvard." Standing in the Harvard Club, Cho, a graduate of Brown and Georgetown Law, knows he has a long way to go his race against Garrett. But Cho also sees the possibilities found in a coalition between Korean-Americans and Ivy League cachet.
"I want to be able to bring the business and legal communities to the table and show that I understand their interests," Cho said. "The Korean-American community wants to be activated. They know that we don't have a remember of Congress right now. We want to show people that we are part of the American fabric as well."