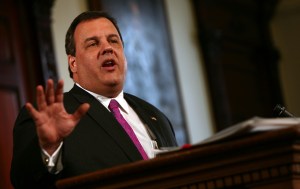 TRENTON – Gov. Chris Christie quickly brushed off a question Tuesday about whether it's appropriate for GOP legislators serving on the legislative committee investigating the George Washington Bridge to continue serving on the panel.
The governor refused to comment on the topic less than two weeks after the Assembly's top Republican lawmaker announced GOP legislators serving on the joint legislative committee could be hitting a breaking point.
It was Christie's first news conference where he took questions from reporters in nearly a month.
When asked whether he thought the Republican response in the state's lower chamber was appropriate, Christie responded:
"I think that the degree of likelihood that I would actually answer that question is so low that since Mike [Drewniak] said two more questions and you're the second one, I'm going to give somebody else a question cause it was so low that I would answer that question," he said.
Earlier this month, Assemblyman Jon Bramnick (R-21) said GOP lawmakers were discussing whether they will continue to be a part of the joint legislative committee investigating the administration over the bridge controversy.
"We're going to meet and discuss what the future is going to be with this committee," Bramnick told PolitickerNJ. "The Republican members of the committee have not been consulted at all," he said. "We're going to review the history of this committee's leadership to determine whether they will continue to receive bipartisan [involvement]."
The statement came after the committee's co-chairperson, Assemblyman John Wisniewski (D-19) told said he was "frustrated" with the documents the committee recently received from the law firm hired by the administration to conduct an internal review of the controversy.