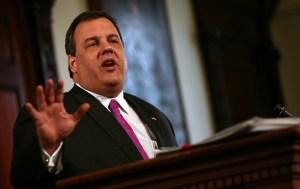 SAYREVILLE – Gov. Chris Christie says a proposal to legalize marijuana in the Garden State making its way through the Legislature is dead on arrival.
The governor, to no surprise, affirmed previous statements on the topic and left any doubts that state Sen. Nicholas Scutari's (D-22) bill to legalize marijuana is not moving forward as long as Christie holds a veto pen.
"They want tax revenue from legalization," Christie said during a Sayreville town hall.
"It's the motivation for the bill and I am not going to turn our state into a place where people fly in to get high for tax revenue," he said. "I've made it very clear since 2009 that I oppose this … [and] it's not going to happen under this [governor] under any circumstances."
Christie's statement is far from new. However, it comes less than two weeks after Scutari introduced legislation he argued could equate to more than $100 million annually in revenue for the state.