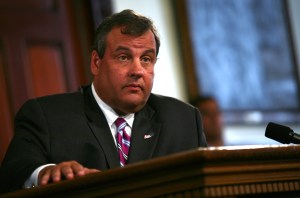 TRENTON – Gov. Chris Christie's spokesman who was subpoenaed by a legislative committee investigating the George Washington Bridge lane closure controversy will likely comply with the order.
The governor made the statement after a reporter asked whether spokesman Michael Drewniak would appear before the joint legislative committee and offer testimony. Drewniak was recently subpoenaed for testimony along with three other individuals.
"I don't see any reason why not," Christie said Tuesday during a Statehouse news conference.
Christie said his administration has "completely cooperated" with any legitimate ongoing investigations and would continue to do so moving forward.
"We will continue to cooperate," Christie said.
"We've completely cooperated with any and all appropriate ongoing investigations and I assume that folks will continue to do that," he said. "We have not restricted any employees form cooperating in any way with appropriate investigations and as long as that continues we will continue to cooperate."
Along with Drewniak, the committee subpoenaed a former Christie staffer and the Port Authority's executive director.
Following the news conference, Drewniak echoed the governor's statement when asked directly whether he intends to testify.
"At this time I have no reason not to," Drewniak told PolitickerNJ.