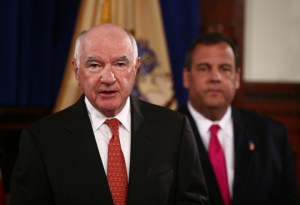 TRENTON – Gov. Chris Christie announced Tuesday he's nominating former New Jersey Attorney General John Degnan to serve as the new chairman of the Port Authority of New York and New Jersey.
The governor made the announcement about a month after Christie announced former Port Authority Chairman David Samson offered his resignation.
"We need leadership at the Port Authority. We need a chairman," said Christie, referring to the former Attorney General as being "extremely well suited" for the position.
"General Degnan is a well respected, distinguished public figure who has served the people of New Jersey in many capacities over the last nearly three decades," he said. "
His charge from me is to do what he has always done in public life and that is to bring his best judgment without prejudice towards any conclusions about where this agency needs to go in order to meet its challenges and to serve the toll payers of New York and New Jersey."
Degnan is a registered Democrat.
"Over his career, John has shown over and over again that he is willing to put service to the state and its people before partisan politics," he said. "And it's on that basis that I'm even more enthusiastic about his willingness to serve."
Christie asked the Senate give provide Degnan a speedy confirmation.
"He's a person of unquestioned integrity," said Christie, adding whether you ask a Democrat or a Republican in the state, "I don't think you'll get a bad word said about John."
Degnan has a Harvard Law degree and has served in a number different roles with the Chubb Group of Insurance Companies since 1990, including as senior vice president and general counsel, also as president, chief ethics officer and vice chairman of Chubb.
He serves as co-chairperson on Christie's taskforce on violence prevention and is a member of the New Jersey Supreme Court Disciplinary Oversight Committee, the Supreme Court Committee on Attorney Discipline Proceedings, on the board of the RAND Foundation's Institute for Civil Justice and as co-chairperson on former Gov. Jon Corzine's committee on Security Protocol for the Governor.
"I appreciate very much the confidence in me that is reflected in your decision, and I'll do my best to match your expectations as you've set them out for me," Degnan said.