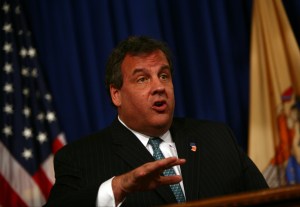 FAIRFIELD – Gov. Chris Christie said for the second time in as many weeks that he would reconsider signing off on a bill that proposes banning pig gestation crates – but only if it's tweaked.
The governor, fielding a question from an attendee at his 118th town hall, promised to "look at" the pig gestation bill slated to hit his desk by the end of June and "use [his] head and [his] heart to try and figure out what's the best thing to do."
However, there was one caveat in his comments this time.
"If they send me the same thing then I'll probably do the same thing," Christie warned.
Christie's promise to rethink the legislation if it hits his desk mirrored similar comments the governor made last week during a similar town hall event.
"What I know about pig gestation and the crates I learned when the bill came before me last time," Christie said at the Sayreville town hall. "If the bill comes back, I will certainly consider any additional evidence that people want to put in front of me."
The bill's sponsor, Sen. Ray Lesniak (D-20), expressed optimism over Christie's comments last week, saying "it would have been just as easy for this governor to say 'no way, it's dead on arrival' like he did with legalized marijuana."
"I think it's encouraging," he said at the time.