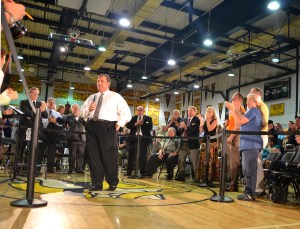 SOMERSET – Gov. Chris Christie sent a message to the new Assembly speaker at his latest town hall event Tuesday regarding the ongoing debate over interest arbitration caps for unionized police and firefighters.
"What's to negotiate?" Christie asked at his latest event a day after holding a rally with New Jersey lawmakers and mayors across the street from the New Jersey Statehouse.
"It doesn't make any sense," he said, referring to Assembly Speaker Vincent Prieto's (D-32) refusal to post the bill for a vote after allowing the law to sunset late last month.
"They want to go back to the old system of 4, 5, and 6 plus person raises," Christie said. "[And] you have to pay for it."
The statement signaled an increased ramping up in Christie's attacks on the new speaker as sources indicated to PolitickerNJ in recent days that discussions between the Legislature and administration to extend the cap were ongoing.
It also spurred a swift response from the New Jersey State PBA, which charged the governor with making up his own facts on the issue.
"The governor is entitled to his opinion but not to his own facts," President Tony Wieners said. "No arbitrator has awarded a 6 percent raise in 20 years and his comments suggest he doesn't trust local government to negotiate for themselves. If he wanted to run local government he should have run for mayor and not governor. But he can't whip up a frenzy on arbitration when he is clearly making things up as he goes."
However, the Republican governor signaled on Tuesday he's less than interested in "negotiating" on the former law with members of the Democratic-controlled Legislature. He argued the former law is crucial to slowing property tax growth in the state.
Yesterday, Prieto issued a statement calling the governor's decision to hold rallies instead of agreeing to negotiations "disappointing."
"I've asked the representatives of local officials to join me for discussions, but they have so far refused to offer any solutions. Still, they take time to join rallies. This is very unproductive and unfair to the taxpayers who deserve better," Prieto said.
"I've made it clear – the Assembly stands ready to settle this issue through good faith negotiations that protect taxpayers and provide fairness to the police and firefighters who protect our safety," he said. "The Assembly's commitment to fairness must be met. That's a balance everyone truly interested in reaching a compromise should be willing to support."