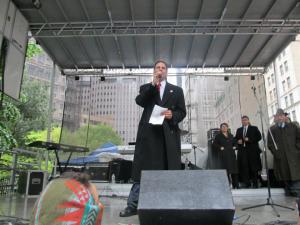 A group of clergy members, led by Pastor and Councilman Fernando Cabrera, will gather on the steps of City Hall this afternoon to urge Mayor Bill de Blasio to drop a Bloomberg-backed policy–which he opposes.
For years, church groups have been fighting over their right to meet inside city school buildings. The U.S. Second Circuit court of appeals yesterday ruled to uphold a policy backed by former Mayor Michael Bloomberg evicting the houses of worship on the grounds that their presence violated the separation of church and state. The latest decision overturns a 2012 ruling by a Manhattan federal judge, who had struck down the ban on the grounds that it violated churches' First Amendment rights.
A DOE spokeswoman said that around 30 organizations currently have active permits for religious worship services in city schools, but did not respond to follow-up questions about who those groups were and whether any new permits had been issued by the new administration.
The ruling does not mean that the city must bar church groups; only that they can if they want to.
Mr. de Blasio said yesterday that he hadn't seen the decision, which is being assessed by the city's law department, but made clear that he opposed the ban, which he also denounced as public advocate.
"I stand by my belief that a faith organization playing by the same rules as any community nonprofit deserves access," he said at an unrelated press conference in lower Manhattan. "They have to go through the same application process, wait their turn for space, pay the same rent. But I think they deserve access. They play a very, very important role in terms of providing social services and other important community services and I think they deserve that right. But we'll asses the court decision and we'll go from there."
What remains unclear, however, is what Mr. de Blasio and the city's Department of Education intends to do. A spokeswoman for the mayor's office declined to answer questions, including about the city's current policy regarding the groups.
"As the Mayor said this afternoon, the administration is assessing the court decision and therefore is unable to comment on what options are available to the City until a review of the decision is complete," she said.
In a statement, Mr. Cabrera urged the mayor to, "as promised, move quickly and reverse this discriminatory policy."
"The Mayor with a single swipe of his pen can offer immediate relief to thousands of his fellow New Yorkers who now face the prospect of not knowing if they will have a place to celebrate the Easter or Passover holiday, " he said.