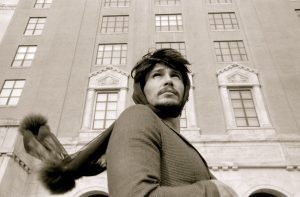 On Saturday morning, at the Robert Rauschenberg Foundation on Lafayette Street, renowned art writer Calvin Tomkins celebrated the re-release of his book The Bride and the Bachelors, which is back in print, this time by Gagosian Gallery. Mr. Tomkins's art world peers Marian Goodman, Thelma Golden, Cecilia Alemani, Will Cotton, Adam McEwen, Dustin Yellin and many others sang the author's praises.
For his part, Mr. Tomkins beamed when Cindy Sherman approached him and jumped up to hug the mercurial artist before signing her copy of the book. We asked Ms. Sherman, who looked casually radiant as ever in a T-shirt and bright blue pants, about James Franco's recent appropriation of her acclaimed "Untitled Film Stills" series, which raised more than a few eyebrows when it debuted at Pace Gallery a few days earlier. "I was flattered, I can only be flattered," she said with a slight sigh. "I don't know that I can say it's art, but I think it's weirder that Pace would show them than that he would make them."
Dodie Kazanjian, a contributing editor at Vogue and Mr. Tomkins's wife, mentioned Mr. Franco's send-up of Kanye West's "Bound 2" music video, in which Mr. Franco plays Yeezy to Seth Rogen's sultry Kim Kardashian.
"That was hysterical," said Ms. Sherman of the spoof.
"Maybe," said Ms. Kazanjian, "he was working his way up."
As for Mr. Tomkins's book, which features writing on Marcel Duchamp, John Cage, Jean Tinguely, Robert Rauschenberg, Merce Cunningham and, as an addition to this new version, Jasper Johns, Mr. Tomkins modestly told us, "It amazes me that it's still in print."