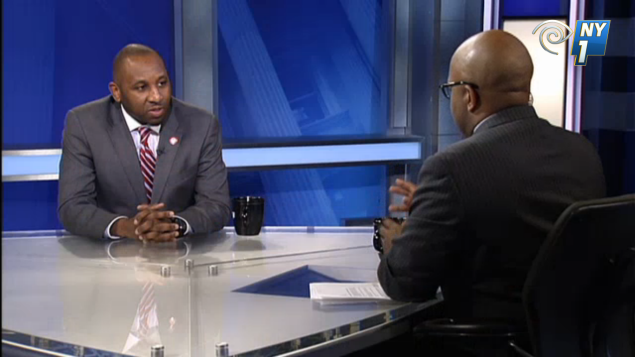 For one city councilman, Hurricane Sandy was a blessing in disguise.
Speaking on NY1 last night, Councilman Donovan Richards labeled the 2012 storm that ravaged his Far Rockaway district both a curse and a "blessing" because the devastation brought needed attention to his corner of Queens.
"The opportunity coming from Sandy, we finally got the city and country to look at a little place called the Rockaways and it has really been a blessing in a sense to have that storm come through, to an extent, because we've been able to now shine a light on our conditions," Mr. Richards told host Errol Louis on Inside City Hall.
"But not only that, go to the city and the state and the feds and say, 'Hey, we need additional assistance,' something that this community has been crying out for for decades," added Mr. Richards, who has called the storm a "blessing" before.
The newly-elected Mr. Richards is one of several council members trying to bring renewed attention to Sandy recovery efforts under the new mayor, Bill de Blasio. The City Council created a Committee on Recovery and Resiliency this year to focus specifically on the aftermath of Sandy and Mr. Richards is one of its seven members.
Mr. Richards, like other more liberal council members, also implied that the de Blasio administration could help his outer borough district more than the previous Bloomberg administration, which was sometimes accused of being Manhattan-centric.
"To get Far Rockaway into a better place, we've started today," Mr. Richards said. "The main thing was to make sure that we got a new administration who really would focus in on the Rockaways and for a very long time … it seemed like it could just not get on first base. But I think we have an opportunity, obviously, to hit a homerun with this administration."