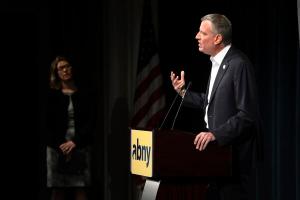 Katy Gaul-Stigge has been appointed to lead a revamped workforce development office tasked with overhauling New York's workforce training programs, the city's deputy mayor for housing and economic development, Alicia Glen, announced today.
Ms. Gaul-Stigge, a former deputy commissioner at the city's Human Resources Administration, will serve as executive director of the former Office of Human Capital Development, which has been renamed the Mayor's Office of Workforce Development.
In a speech in front of Association for a Better New York this morning, Ms. Glen hailed Ms. Gaul-Stigge as "a real powerhouse in the field."
"She knows the people we are trying to lift up. She knows our employers. She knows the programatic landscape," said Ms. Glen. "There's no one better positioned to get everyone on the same important page.
In her remarks, which focused on the importance of the tech industry for the city, Ms. Glen called for "a thorough reinvention of workforce development in this city."
"The truth is that, right now, too many workforce development programs move at an analogue speed in a digital age," she said,  noting that the city is currently investing "massive" a half billion dollars a year in adult education and workforce development.
"And for all the good work that people in various social service organizations are doing and job training programs and apprenticeship programs, I don't think there's an employer in this room who honestly thinks that, as a city, we are training the workforce they are going to need five or ten years from now," she told the group.
To help revamp the program, Ms. Glen also announced the creation of a "Jobs for New Yorkers" task force, which will be formally unveiled next week and led by Ms. Gaul-Stigge.
The task force, comprised of some of the city's leading employers, philanthropists and educational institutions, will be charged with creating a "more nimble and responsive workforce training and forge real, tight bonds to our fastest growing, good-paying employers."
"Our goal is simple: we don't want you to go to Stanford or overseas when you're looking for talent. We're going to give you the people you need right here in New York City," she said, promising those in the room the kind of workforce development "that keeps pace with your needs in real time."
While she did not go into extensive detail, Ms. Glen suggested that the overhaul would shift the city's focus from rewarding job placement–often in low-wage jobs–to building more advanced skills.
"We want to build a system that rewards skill building and ongoing advancement into full-time, higher wage jobs in those sectors that are actually growing," she said.